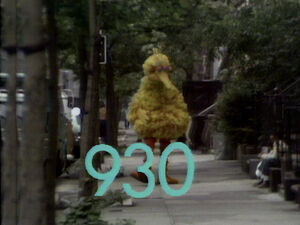 Picture
Segment
Description




SCENE 1
Oscar's TV is busted, only showing picture and no sound. He frets missing his favorite programs on Grouch TV, until he remembers that Linda can read lips and help transcribe the shows for him. She shows him signs for different types of weather so he'll know them when she signs them. "The Grouch Weather" with Dr. Frank Freeze comes on, but Dr. Freeze's large, bushy mustache hides his mouth, thus preventing Linda from being able to read his lips.

Cartoon
"Alphabet Imagination": A female voice quickly recites the alphabet followed by a male voice narrating each letter in a series of psychedelic vignettes.
(First: Episode 0345)

Cast
Maria and the kids (including Joey) put together a fractured B.
(First: Episode 0922)

Cartoon
The Typewriter: B for Ball
(First: Episode 0829)

Cartoon
With one mighty blow of his baseball bat, a boy knocks several B items (including a basket, bandit, and ball) off of a wall.
Voice: Casey Kasem
(First: Episode 0237)

Song
"B is for Bubble"
(First: Episode 0008)




SCENE 2
Today is Linda's birthday and Maria, Gordon, Mr. Hooper and the kids have prepared surprise gifts for her. They've also prepared to sign "Happy Birthday," but as a special code, they will do it when they mention "birthday begins with B." Linda stops by before she has to catch the bus to work and they play a game naming words beginning with B. Before they can get their code phrase out, Linda points out another B word - Bus - which she then catches.

Cartoon
Jack waters a B, which grows into a B-stalk. He climbs it and travels to the Land of B.
(First: Episode 0277)




Muppets
Marshal Grover and Fred the Wonder Horse are hot and thirsty, so they stop in at the Short Branch Café for a nice cold glass of milk. The bartender is distressed to see Grover riding his horse right inside, knocking over tables. "I just redecorated the place, too," he sighs. Grover orders a glass of milk, and the bartender asks if he wants the big glass, the bigger glass or the biggest glass. Fred tells the bartender that Marshal Grover doesn't know the difference, so the bartender shows off all three sizes. Marshal Grover and Fred come behind the bar to get a closer look, breaking bottles and glassware. The annoyed bartender shouts at Grover to choose a glass, and Grover picks the biggest glass. The bartender asks if Fred wants anything, but Fred says, "No thanks, I'm drivin'." As Grover rides his horse out of the café, the bartender asks who's going to pay for all this stuff. Grover says he'll be back to pay for it tomorrow. Panicked, the bartender says not to come back; it's on the house!
(First: Episode 0683)

Animation
Big, bigger, biggest (oxen pulling rocks)
(First: Episode 0794)

Insert
Bob and the kids sing "Right in the Middle of My Face."
(First: Episode 0892)

Film
The snouts, tails and bodies of pigs, with a soundtrack of pigs squealing.
(First: Episode 0179)

Cartoon
Big, bigger, biggest (strongmen)
(First: Episode 0792)




Muppets
Ernie & Bert — Ernie asks Bert to keep an eye on his pyramid of blocks. The Count walks by, and counts the blocks, moving them out of the pyramid shape. Then he counts them again, putting them back into the pyramid. Bert yells at the Count for moving Ernie's blocks, so the Count counts the blocks again, taking the pyramid apart.
(First: Episode 0406)

Cartoon
"I'm six years old today!"
(First: Episode 0357)

Cast
Surgeons Maria, David, Susan and Luis "operate" on a motorcycle.
(First: Episode 0484)

Film
Six children go down a slide.
(First: Episode 0600)

Muppets
Five Anything Muppets sing the "Numerical Correspondence Song."
(First: Episode 0735)

Film
Kids count 20 penguins going down a slide.
(First: Episode 0232)

Cartoon
"Four Seasons"
(First: Episode 0276)

Celebrity
Joe Namath: Pass On 6
(First: Episode 0442)

Cartoon
A race announcer doubles as the man who holds up the START and STOP sign.
(First: Episode 0623)

Muppets
The Twiddlebugs try to get to the zoo.
(First: Episode 0603)

Film
Tracks from a race car cross paths until most of the screen is blank. A pair of foot prints crosses the screen to blank out the last bit.
(First: Episode 0105)

Film
A mailman on horseback delivers mail in the Appalachian mountains of Kentucky.
(First: Episode 0493)

Cartoon
A self-proclaimed "handsome" fly (voiced by Casey Kasem) is indignant about appearing in a segment about the letter F with a "fat and ugly" frog. The frog solves the problem by eating the fly.
(First: Episode 0034)




SCENE 3
While waiting for Linda's bus to return, everyone shares what gifts they got her. Big Bird wheels over his gift - a phonograph and speaker. Everyone points out that Linda won't be able to use the gift because she can't hear the music. Big Bird sulks over what a "dumb dodo" decision he made. Linda's bus drops her back on the street and she admires everyone's gifts. She comes across Big Bird's and, to everyone's surprise, shows how she can enjoy it - by feeling the vibrations of the music by feeling the speaker.

Cartoon
Frances Fairy displays several F words.
(First: Episode 0335)

Film
A conductor yells "STOP" to his off-key violinist trying to play Vittorio Monti's "Czardas".
(First: Episode 0516)

Cartoon
I Thought a Thought ... about small things. A man thinks about small things, and lists them. A sea monster thinks it is small, especially when compared to its father!
Artist: Cliff Roberts
(First: Episode 0241)

Muppets
Farley explains things one can do with their mind - he plans on going to the door, he imagines who's knocking at it, he remembers it's not his mother and he hopes there's not a scary monster at the door. Herry Monster surprises him by bursting through the door, frightening Farley away. Herry's sorry Farley ran away; he wanted to play.
(First: Episode 0180)

Cartoon
A girl uses her paint-by-the-numbers set to find an elephant in her picture.
(First: Episode 0510)

Film
A STOP sign spins around.

Cartoon
Jack waters a B, which grows into a B-stalk. He climbs it and travels to the Land of B. (repeat)

SCENE 4
Big Bird announces the closing sponsors, while Mr. Hooper plays the same music again (a disco version of the Sesame Street Theme) which plays during the credits.




CLOSING SIGNS
Maria holds up the Sesame Street sign, while Oscar holds up the CTW sign at the end.
Notes
Community content is available under
CC-BY-SA
unless otherwise noted.