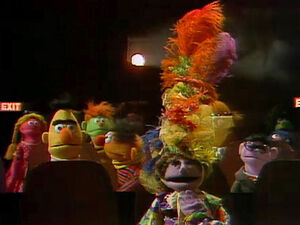 Everybody in Sesame Street tries to cool off. Big Bird orders a piece of ice to make "piraguas", or ice cakes.
Cartoon: A man goes to the grocery store to buy apples, but he can't decide how many to get. This frustrates the grocer, who has to keep adding and subtracting the amount of apples on his scale. (First: Episode 0132)
Film: A panda tries to scratch an itch.
Film: Spinning Bus Stop sign
3 rubber duckies and a boat are used to classify by class.
Film: Some kids observe a woman drawing pictures of a building, and eventually guess that she's an architect. (EKA: Episode 0820)
Kids count to 10 and back.