Sesame Street
Gordon tries to guess what Susan has bought
Air date
December 9, 1976
Season
Season 8 (1976-1977)

Sponsors
A, T, 5

This episode guide has been compiled from script materials provided by a trusted source.

ⓘ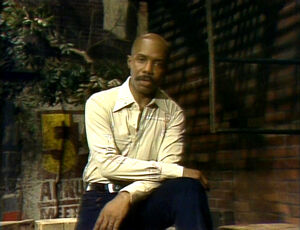 Picture
Segment
Description

SCENE 1
Susan wants Gordon and the kids to guess the item that she's bought; it turns out to be a camera. She gathers them for a group photo.

Cartoon
Find the camouflaged parrot.
Voice: Paul Dooley
(First: Episode 0516)

Muppets
Lefty the Salesman wants to sell Ernie a painting of a tree, which he says is a picture of four elephants. Ernie doesn't see the four elephants, so Lefty offers to show him the elephants if Ernie will buy the picture for a nickel. Lefty points out the elephants, which are actually spaces in the tree's branches. Ernie shells out for the picture. Ernie wants to pull the same trick on Bert, but Bert notices the elephants right away.
(First: Episode 0292)

Song
"1-2-3-4-5!"
(First: Episode 0144)

Film
A man karate chops 5 boards.
(First: Episode 0469)

Cartoon
A lost number 5 looks for his brother.

Muppets / Celebrity
Edith Ann tells Herry about feeling proud.
(First: Episode 0913)

Song
"Paying Attention Song" (Charlie Tyson)

Cartoon
What if an anteater had the features of a giraffe?
Artist: Cliff Roberts
(First: Episode 0422)

Muppets
Ernie & Bert — Ernie has gone shopping -- buying bread for himself, and peanut butter for Bert. They realize that it's dull to eat what they have separately, and they decide to cooperate, so they can each have a peanut butter sandwich.
(First: Episode 0279)

Cartoon
A boy imagines multiple uses for his broom.
(First: Episode 0784)

Cast
Maria pushes through a piece of seamless background paper. Via narration, she explains that she's at the top. She pushes through lower on the paper, and explains the difference between top and bottom.
(First: Episode 0595)

Cartoon
A for Acrobats
(First: Episode 0797)

Muppets
Sesame Street News Flash
Kermit stands by a grandfather clock waiting for a mouse to run up it, acting out "Hickory Dickory Dock". Gladys the Cow and a duck show up instead. Finally, a horse comes in and explains that the mouse can't make it. The horse runs through the clock, breaking it.
(First: Episode 0710)

Cartoon
Speech Balloon: A for Agua
(First: Episode 0510)

Film
A boy narrates a film of how his family trains wild ponies on the farm.
(First: Episode 0815)

Cartoon
A Spanish-speaking man seeks agua in the desert. A cowboy gives him a glass, and he uses it to wash his hands.
(First: Episode 0928)

SCENE 2
Susan is upset because her pictures came out botched. Gordon tricks Oscar into using Susan's botched pictures to show top and bottom.

Cartoon
The Magnificent Splasho goes from the top of the ladder to the bottom of the water tank.
(First: Episode 0655)

Celebrity
Richie Havens sings "Here Comes the Sun."
(First: Episode 0777)

Film
Voiceovers count to 5 using groups of animals at the zoo.
(First: Episode 0288)

Cartoon
Jasper and Julius: Apple.
(First: Episode 0485)

Muppets
Old West: Five good men are needed to form a posse and catch Bad Bart, the meanest man in the West. The sheriff counts five men in the saloon, and tries to organize them. But it turns out that there are only four good men -- one of them is Bad Bart!
(First: Episode 0554)

Cartoon
"Young MacDonald Went to Town"
(First: Episode 0787)

Film
Sesame Street Animal Films: A film of camels eating.
Music: Joe Raposo
(First: Episode 0388)

Cartoon
A man displays his invention, the A-box, which only takes the letter A.
(First: Episode 0781)

Cast
Maria and Luis assemble a fractured letter "a."
(First: Episode 0904)

Cartoon
An ape escapes from the A train and heads over to a birthday party.
(First: Episode 0293)

Muppets
Roosevelt Franklin leads a counting practice for his Headball team.
(First: Episode 0893)

Film
Various sporting events involving throwing things are shown from around the world.
(First: Episode 0809)

Animation
Arthur and Annie look for the letter A, while a shadowy figure observes all the A words they say.
Features the voice of Jim Thurman
(First: Episode 0781)

Muppets
Ernie & Bert — Bert is reading a book when Ernie startles him by asking if he wants to play checkers. Bert says, "I thought maybe you weren't here!" Ernie starts to search to see if he can find himself.
(First: Episode 0171)

Cast
Gordon sings "Let Your Feelings Show."

Cartoon
"Poverty T"
(First: Episode 0020)

Song
A girl invites the listener to "Swing Up High."
Music: Joe Raposo
(First: Episode 0408)

Muppets
Kermit's Lectures: Grover helps Kermit show the number 5 using blocks, but Grover doesn't know how many to get (he can't count to 5). Kermit has him go back and forth bringing one until there is five.
(First: Episode 0475)

Song
"1-2-3-4-5!" (repeat)

Cast
Maria, Luis, Gordon and three kids all have umbrellas with different patterns, which a voiceover uses to put them into different groups.
(First: Episode 0821)

Animation
Sand T/t
(First: Episode 0636)

SCENE 3
The sponsors are announced.