Sesame Street
Plot
Cookie Monster needs a chisel and hammer to cut a concrete cookie.
Air date
December 13, 1976
Season
Season 8 (1976-1977)
Sponsors
D, R, 7

This episode guide has been compiled from materials at the CTW Archives.

ⓘ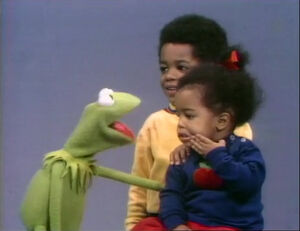 Maria assembles an R, which is broken in several parts.
David and Maria can't find each other at the park, because when one is above the bridge, the other is below, and vice versa. They finally find each other. (EKA: Episode 0677)
Cartoon: Two green martians fight over a flower, until they see a monolith crumble to form the word AMOR. (EKA: Episode 0892)
Cartoon: A construction worker explains the uses of a folding ruler. (EKA: Episode 0592)
Hubley animation: A penguin repeats the rhythms of the sounds it hears, which include a drum, a door knock, a saw and a typewriter. (EKA: Episode 0272)
Susan, Grover and the kids sort by size.
Film: Kids compare animals and human tools and technology. (EKA: Episode 0789)
Cartoon: Two men push two large bird eggs to the top of two hills. (First: Episode 0773)