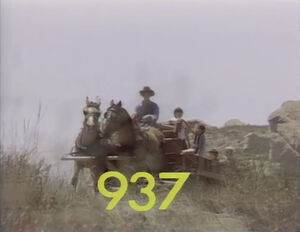 Picture
Segment
Description




SCENE 1
Mr. Snuffleupagus encounters Big Bird practicing his baton twirling for the bird and animal parade next week. Big Bird teaches him how to march, and they march past the arbor, but Snuffy goes off in the wrong direction, so the adults don't see him with Big Bird.

Animation
Sand M/m
(First: Episode 0620)

Film
Over (silent film)
(First: Episode 0517)

Cartoon
A man invites an M to dinner. The M is very appreciative, and makes "Mmmmmm" sounds. It eats all of the food at the table, and winds up eating the screen!
Artists: The Hubleys
(First: Episode 0276)

Film
Building a log cabin
(First: Episode 0602)

Muppets
Pageant: "She'll Be Comin' 'Round the Mountain"—Cookie Monster, playing the heroine in this year's pageant, can't seem to grasp the concept of going "around" until Prairie Dawn lures him with a—guess what?
(First: Episode 0907)

Film
Things that start with M
(First: Episode 0620)

Celebrity
Richard Pryor recites the alphabet.
(First: Episode 0779)

Song
Sesame Street Animal Films: Joe Raposo sings "Weaver Bird."
(First: Episode 0372)

Cartoon
M in space
(First: Episode 0516)

Film
A boy goes to the dentist and gets his teeth cleaned.
Music: Joe Raposo
(First: Episode 0476)

Cartoon
The Typewriter: D - Daisy
(First: Episode 0795)

Muppets
Grover the Salesman: Grover wants to sell Kermit the Frog some earmuffs, but Kermit doesn't have ears, so Grover gives Kermit some big human ears.
(First: Episode 0800)

Film
"Doll House"
(First: Episode 0131)

Cast
Luis tries to open a door marked with a "CERRADO" sign. He gets a running start, when Maria changes the sign to read "ABIERTO." She opens the door and Luis runs right through it, crashing.
(First: Episode 0596)

Cartoon
Two boys notice a D, saying it looks fat. A resonant voice (Gary Owens) informs them that it's the letter D. This leads to a jazzy story about a dog who digs for dice, wins a duck, and buys a dinosaur with a dime. Moral: "If you dig a dinosaur, drop your duck for a dime."
(First: Episode 0016)

Film
A CERRADO sign spins around. A girl tries opening the door, but it's closed.

Animation
A grape blows reveille and inspects the "troops" -- 12 raisins on a slice of white bread.
(First: Episode 0618)

Film
Kids identify pairs of animals in a zoo.
(First: Episode 0364)

Cartoon
Donnie Budd sings a two-step for pairs of animals.
Artist: Bud Luckey
(First: Episode 0342)

Song
Joe Raposo sings "Touch, Hold, Feel."
(First: Episode 0504)

Muppets
Kermit the Frog, Smart Person, helps Legs Benedict (Bob) remember what to call the body part on the front of his face that helps him smell and breathe.
(First: Episode 0747)

Cartoon
Birds appear around the numerals one through twenty as jazz music plays.
Artists: The Hubleys
(First: Episode 0134)

Muppets
"M-M-M Monster Meal"
(First: Episode 0380)

Cartoon
A drowsy wagoner gets across a clearing by building a bridge out of his ox-cart, and converting it back again.
Artist: Bruce Cayard
(First: Episode 0616)

Film
You can clean almost anything.
Music: Bach's "Gavotte" performed by the Swingle Singers.
(First: Episode 0001)

Muppets
Ernie & Bert — Ernie plays doctor and makes Bert be the patient for his check-up. He checks Bert's heart, mouth and more. At the end, Bert wonders how he is feeling, but Ernie can't tell him that until he's a real doctor, twenty-three years from now. Bert faints after Ernie's answer and Ernie wonders if there's a doctor in the house.
An alternate take of this sketch would be used in subsequent episodes.




SCENE 2
Big Bird is ready to play, when he's visited by a bird named Mrs. Twitter, who asks him to sit on her egg while she gathers twigs. Big Bird has never egg-sat before, but she promises him 25¢ an hour and tells him not to let the egg break. Big Bird carefully places the egg in his nest and starts to sing it a lullaby.

Muppets
Ice Follies: Count von Count skates to the tune of "The Song of the Count" ending with the rink lights simulating lightning.
(First: Episode 0884)

SCENE 2
cont'd
Big Bird has re-read the same book six times, growing very bored of egg-sitting; he can't even leave to go play with his friends. David, Susan and Gordon see the sign on his door: "Quiet! Sitting on egg - Do not disturb!" While they try to guess where they he the egg, Big Bird hears the sounds of chirping...

Film
A baby chick hatches from an egg. (Music: Joe Raposo)
(First: Episode 0690)




SCENE 2
cont'd
Big Bird hears pecking and discovers part of the egg shell has broken, with a young bird inside. Big Bird snaps at the baby for damaging the egg. He thinks he's failed at his promise to not break the egg, but Gordon and Susan tell him he's just aided in the birth of a baby bird, which is something to be proud of. Big Bird is proud, but wishes he found a way of bringing the new life into the world without breaking the egg.

Song
Joe Raposo sings "Me."
(First: Episode 0421)

Cartoon
A boy does an addition problem in his head: 2 + 1 = 3
(First: Episode 0516)

Cartoon
M in space (repeat)

SCENE 3
Big Bird proudly recounts the events of him hatching the egg to everyone, but swears he'll never egg-sit again. David then finds a basket of eggs outside the door with a request from other birds that he hatch them. Big Bird trudges back to his nest and gets to work, as Snuffy announces the sponsors.
Notes