Sesame Street
Plot
Luis describes the sounds of tools in the Fix-It Shop.
Air date
December 16, 1976
Season
Season 8 (1976-1977)
Sponsors
K, N, 4

This episode guide has been compiled from materials at the CTW Archives.

ⓘ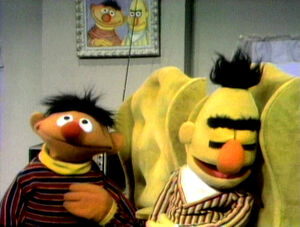 Ernie & Bert — Ernie comes home to a sleeping Bert and tries to think of things to do that won't wake him up. He can't watch TV, and he can't play with his ball. Bored, he decides to take a nap too -- but then he starts to snore. This awakens Bert, who wonders out loud where the noise is coming from, in the process arousing Ernie, who gets mad at being woken up. (EKA: Episode 0280)
Film: Kids run out a door with a SALIDA sign.
Madame Schwartzhead sings a solo concert about how whenever she doesn't know a certain word, she sounds it out until she blends it together to form the word instead of asking someone else to read it to her. Unfortunately, her concert goes awry when her loony backstage manager misinterprets what he hears.
Cartoon: A man finds a large log that's perfect for his fireplace, but finds it too heavy to move. So, he moves his house to the log.
Film: A man spins in circles while riding in his kayak. (EKA: Episode 0312)
Luis and the kids classify by size.
Susan shows emotions using pictures.