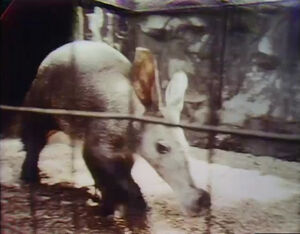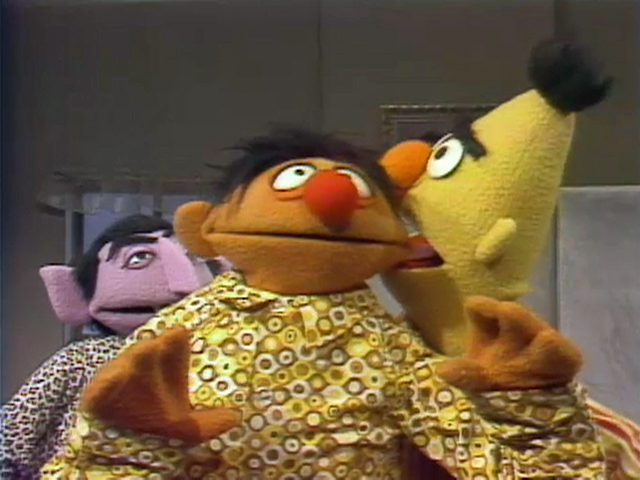 Cartoon: A man weighs five pounds of bubble gum. He chews it all, blows a huge bubble, and flies away. (EKA: Episode 0814)
Cartoon: A bird flies, carrying a sign that says "PELIGRO". (EKA: Episode 0811)
Words beginning with the letter C are spelled.
Cartoon: A red man tries to get apples from a tree by himself, while a yellow man builds a ladder. (EKA: Episode 0543)
Film: Two boys each have five cents--one has five pennies, one has a nickel. They see a dime along the way, which is worth ten. They ask the man at the store for change for the dime, and he gives them a nickel and five pennies. They spend their pennies, but then they want to buy an ice cream for ten cents and the machine only takes dimes. They give the store man their nickels in exchange for a dime and they share a fudgesicle. (First: Episode 0132)
In a two-part sketch, The Count sleeps in Bert's bed while Bert sleeps on the couch. Ernie tells the Count that he can count sheep to get to sleep, but the Count stays up all night counting sheep. The next morning, The Count mentions that he had a good night, but he didn't sleep. His counting kept Ernie up, and now Ernie is walking and counting in a daze.
Community content is available under
CC-BY-SA
unless otherwise noted.