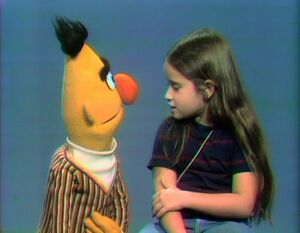 Grover sits on a chair with a sign on it reading "WET PAINT".
Cartoon: A guru illustrates heavy and light by dropping a feather and a bowling ball on a man's foot.
George the Farmer shows embedded shapes using drawing of geometric forms and household objects with the same shape.
Cartoon: What if a mouse and an elephant switched bodies? (EKA: Episode 0343)
Juanita looks for "YO", asking, "¿Esto es yo?" Nope, it's a toy car, and a tomato, and a mirror. Looking in the mirror, she finds herself. "¡Hola, yo!" she cries. (EKA: Episode 0815)
Cartoon: An apple, an orange, and a pear learn they can cooperate by rocking and rolling. (EKA: Episode 0791)
Film: A woman and a girl talk about things they see in the river.
Animation: A girl wants to show something scary. She finds a monster, who runs away in fright when he sees her. (EKA: Episode 0845)
Community content is available under
CC-BY-SA
unless otherwise noted.