Sesame Street
Plot
Maria, David and Big Bird go to City Island
Air date
December 27, 1976
Season
Season 8 (1976-1977)
Sponsors
O, Q, 11

This episode guide has been compiled from materials at the CTW Archives.

ⓘ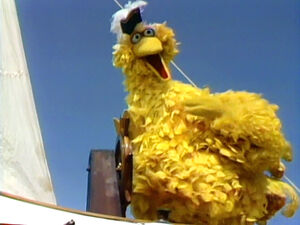 Big Bird sings "Admiral Bird", playing the role of the Admiral of the Navy.
While in City Island, Maria visits some of her friends.
David, Maria, Big Bird and Debbie prepare to go sailing.
The Mad Painter attempts to paint an 11 in a doctor's office, but is unable to act in front of the waiting patients. Though he paints an eleven on the door, a janitor washes it off, and the nurse yanks the painter into the office. (First: Episode 0329)
Big Bird talks about the beach.
Cartoon: Things say that other things are small, but then something comes along that's bigger, or smaller, or whatever. (EKA: Episode 0320)