Sesame Street
Gordon misses three buses because he took time to help his friends
Air date
January 4, 1977
Season
Season 8 (1976-1977)

Sponsors
K, V, 6

This episode guide has been compiled from script materials provided by a trusted source.

ⓘ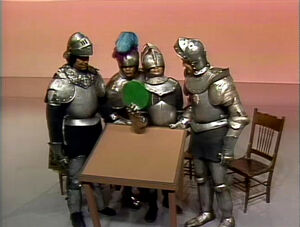 Picture
Segment
Description

SCENE 1
Bob's greeting to everybody on Sesame Street is "Have a Nice Day".

Cartoon
A man assembles the word LOVE, and a bird pecks the O into the shape of a heart.
(First: Episode 0791)

Muppets
News Flash
A princess claims that the man she intends to marry has small ears, bulgy eyes, and a funny voice, wears a hat and coat, and is a frog. Kermit is the only one who fits that description, so she kisses him and, in a puff of smoke, she turns into a frog. Kermit invites her to "the hop", and she accepts.
(First: Episode 0859)

Film
Guitar (4:16)

Film
Two hands make sounds from other sides of a wall.
(First: Episode 0649)

Cartoon
Three birds enter a cuckoo clock to do their job.
(First: Episode 0407)

Film
Slide puzzle - truck
(First: Episode 0403)

Muppets
"Frazzle" with Frazzle and The Frazzletones
(First: Episode 0846)

Cartoon
What Do You Do With a Pet?
(First: Episode 0465)

Film
A film insert of kittens playing, with child voiceovers in English and Spanish.
(First: Episode 0429)

Cartoon
K is for kitten.
(First: Episode 0040)

Celebrity
Flip Wilson counts from 1 to 20.
(First: Episode 0147)

Cartoon
A kitten is knittin' a kerchief, a kite, and a polka-dot mitten.
(First: Episode 0282)

Muppets
Ernie and Cookie Monster note that they're the same in a lot of ways, and then become paranoid that they can't tell each other apart. An Anything Muppet tells them how they are different, which relieves them of their stress.
(First: Episode 0635)

Cartoon
Things that are same and different.
(First: Episode 0300)

Cartoon
Donnie Budd counts six snails, six ships, and six whales.
Artist: Bud Luckey
(First: Episode 0324)

Cast
A king (David) and his knights (Luis, Bob and Maria) assemble for their meeting at the round table, but discover their table is actually a square. They fetch a triangle, then rectangle table before finally getting a round one, which they eat their lunches off of.

Film
"Six Song (Song of Six)."
(First: Episode 0011)

Cartoon
Poor Solomon Grundy washes a different part of the left side of his body every day, but at the end of the week, "he's still half dirty!"
(First: Episode 0001)

Muppets
Kermit the Frog counts six happy little Twiddlebugs, and when he is finished, the Twiddlebugs have a party.
(First: Episode 0280)




Film
"Head To Toe Puzzle": Two kids put together a life size jigsaw puzzle of a human body.
(First: Episode 0024)

Film
A pair of hands deal cards marked with the numbers 12 to 1.
(First: Episode 0433)

Cartoon
A little girl tries to figure out why a dog is crying.
(First: Episode 0862)

Cartoon
The Typewriter: V for Vacuum
(First: Episode 0774)

SCENE 2
Gordon needs to take the bus to go pick up a framed picture at the photo shop. Mr. Hooper asks him for help carrying a heavy bag into the store, so he helps, and he misses one bus. He misses another bus when he helps a kid get his leg out of a bicycle chain, and yet another when he helps Bob tighten his clothesline. Luckily, Susan comes back with the framed picture, having picked it up already.

Cartoon
K for kite
(First: Episode 0489)

Film
A girl meets a blind woman who has a seeing-eye dog.

Cartoon
K-kick
(First: Episode 0463)

Cast
Buffy and Mr. Macintosh perform a song and dance about the letter K.
(First: Episode 0912)

Cartoon
"Danny knows the alphabet, and is he proud! If you can follow him, then sing out loud!"
(First: Episode 0406)




Muppets
Game Show: Pick Your Pet
Lucy Jones insists upon a pet that purrs, has silky hair, and likes milk... the Beautiful Day Monster.
(First: Episode 0067)

Cartoon
Cat / fat / hat / sat / rat / bat / scat / splat / flat / pat
Voice: Daws Butler
(First: Episode 0770)

Insert
Three of These Kids are jumping rope, but the fourth one is sitting down and reading a book.
(First: Episode 0415)

Cartoon
Krazy Kat proves his love for Ignatz Mouse with a block of cheese. Ignatz carves it into the word "LOVE."
(First: Episode 0615)

Muppets
Ernie & Bert — Bert expects a visit from his identical twin brother Bart. Ernie notes that they're alike in many ways, but their major difference is that Bart has a sense of humor.
(First: Episode 0594)

Cartoon
The Villain in the Panama Hat (V)
(First: Episode 0507)

SCENE 3
Susan shows some of her pictures to Big Bird and the kids. They guess whether the pictures were taken in the city or the country. The last one is of their own house on Sesame Street, but Big Bird takes a long time to figure that out.

Cartoon
This is a big letter V poem
(First: Episode 0507)

Film
A kid narrates footage of a termite colony.
(First: Episode 0408)

SCENE 4
As Big Bird still tries guessing where the picture was taken, The sponsors are announced.