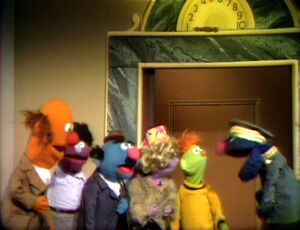 The campers construct a tent.
Susan explains how to build a campfire.
After the campfire is built, the gang tells a campfire story full of B words.
While trying to sleep, Gordon and Susan have an argument.
It starts raining, so all the campers take shelter in Gordon and Susan's tent.
Cartoon: A man tries to figure out where a squeaky sound is coming from; it turns out to be a giant's squeaky shoes. "Surprise!" (EKA: Episode 0810)
Film: Footage of a city neighborhood; includes shots of a sno-cone vendor. (EKA: Episode 0695)
Cartoon: A boxer explains the letter "B" and the purpose of boxing gloves. (First: Episode 0006)
Film: Footage of a road being constructed intercuts with clips of kids digging a road in the sand on the beach. (EKA: Episode 0310)
Cartoon: A red PELI and an explosive GRO form the word PELIGRO. (EKA: Episode 0811)
Notes