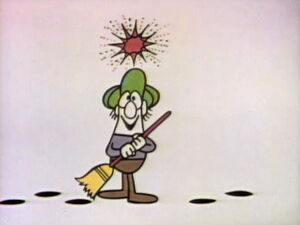 Maria uses trucks to demonstrate back and front.
Cookie Monster: Cookie Monster comes to the bakery looking for something delicious that rhymes with BUY. He tries the I (from the MIKE'S BAKERY sign) and the baker's TIE, both of which aren't that delicious. Finally, Guy Smiley comes in and loudly announces that he would like to BUY a PIE. Cookie then knows what he can get in the bakery that rhymes with BUY and is delicious: it's GUY! A chase ensues, and Cookie requests for the baker to send him the bill. (EKA: Episode 0519)
Sesame Street Game Shows: Guy Smiley hosts "The Addition Game". The contestant, Herry Monster, has to add numbers to win the prize. Herry can solve all the questions except "3+1=_", so he brings four cars into the studio to add them together.
Cartoon: after sweeping the floor, a man figures out that he's the cause of the reappearance of dirt. His shoes are dirty. (EKA: Episode 0262)
Film: Kid voiceovers identify a horse's body parts (shown one at a time), then the complete animal. (EKA: Episode 0813)
Cartoon: A girl has a stick, which is used by a tightrope walker, clown and marching band leader.
Cartoon: "Nelly 1-10/10-1": Numbers are counted in a parade, interrupted by people and things. (First: Episode 0629)
Animation: Two lines intersect at the middle of the screen and have an argument; they cooperate by making a cross. (EKA: Episode 0276)
Gordon and the kids sort by class using letters and numbers.
Animation: A red ball with dots tries to join a group of red balls with black stripes. (EKA: Episode 0839)
Community content is available under
CC-BY-SA
unless otherwise noted.