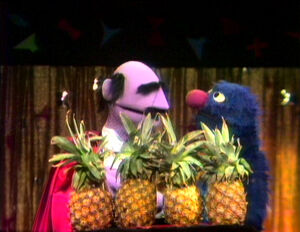 Picture
Segment
Description

Muppets
Grover reads "The Cursed Prince" (David turns into Kermit)

Film
A film shows parts of a flower.
Music: Vivaldi's Concerto for lute, 2 violins and continuo in D Major II - Largo
(First: Episode 0008)

Celebrity
Arthur Ashe: keep practicing (2:05)

Cartoon
A ship captain orders the numbers 1-20 into a boat - which promptly sinks.
Artist: Harvey Kurtzman
(First: Episode 0614)

Film
Footage of a baby learning to walk.
Music: Joe Raposo
(First: Episode 0427)

SCENE 1
Maria and the kids play a Spanish "Three of These Things" game with three round things and a book.

Muppets
Cookie Monster and Ernie: Ernie talks about what happens next when he throws a rubber ball, a glass and a watermelon over the wall. When he throws the ball, it bounces. When he throws the glass, it breaks. When he throws the watermelon, Cookie Monster catches it in his mouth and thanks Ernie.
(First: Episode 0148)

Cartoon
Three frogs show first, middle and last while hopping over each other.
(First: Episode 0411)

Muppets
Bob is approached by an Anything Muppet (Jim Henson) with no face, so he gives him eyes to see what a lovely day it is and a nose to smell a flower. The AM thanks him and leaves to gift the flower to a friend.
(First: Episode 0660)

Cartoon
A boy demonstrates why his dog's name is Happy.
(First: Episode 0537)

Insert
Jerry Nelson narrates three letters coming together to form the word FUN. The letters celebrate with confetti and streamers.
(First: Episode 0458)

Film
Corners bridge (0:11)

Muppets
Two brothers, First and Last, sing about how their names affect how they do things.
(First: Episode 0134)

SCENE 2
Oscar comes home with some groceries, asking Maria to help him put them into his can – but his can is missing! Where did it go?

Cartoon
Jasper thinks that he has lost his elbow, but Julius shows him his elbow by bending his arm.
Artist: Cliff Roberts
(First: Episode 0410)

Film
David narrates some films showing the homes of animals.
(First: Episode 0452)

Muppets
Sesame Street News Flash: Aladdin is distressed that his lamp won't work until Kermit informs hims that he needs to add a light bulb, plug in the cord, and flip the switch. All the while, the Genie wisecracks about his job and trying to get some sleep inside a lamp.
(First: Episode 0927)

Cartoon
A baby bird falls from a tree. A boy puts him back, and in return, the mother bird saves the boy from embarrassment.
(First: Episode 0550)

SCENE 3
Oscar, Luis and Maria try to figure out what happened to Oscar's can. Suddenly, the new garbageman brings a shiny new trash can for Oscar. Luis explains to the garbageman that Oscar would rather have his old can back, so the garbageman agrees to take Oscar to the dump to get some of his stuff back.

Muppets
Western: A cowboy comes to see Adam T. Glaser, who is such a jack-of-all-trades that he forgets what a dentist does.
(First: Episode 0408)

Cartoon
A man has a J under his hat.
(First: Episode 0231)

Film
A kid enters a tunnel made of snow to demonstrate "head first" and "feet first."
(First: Episode 0290)

Insert
Olivia sings "Move."
(First: Episode 0920)

Cartoon
Rumba pencils (first, last, Crazy Melvin)
(First: Episode 0638)

SCENE 4
Oscar arrives at the dump, where he finds more things to add to his trash collection, to the garbageman's surprise.

Cartoon
Willie Wimple went a-boatin' and polluted the river.
Artist: Abe Levitow
(First: Episode 0561)




Muppets
Ernie & Bert — Ernie and Bert have difficulty scratching their backs, so both help each other scratch their back. While Ernie's itch takes a little too long to scratch, he introduces a film called "Everybody Scratch." After the film, Ernie notices that Bert has stopped scratching his back; Beautiful Day Monster is.
(First: Episode 0012)

Cartoon
A girl inflates a balloon in the shape of an S.
(First: Episode 0414)

Film
A police officer follows clues that lead to a bathtub stolen by a gorilla.
(First: Episode 0491)

Animation
Henson Films: Number Twelve Rocks
(First: Episode 0195)

Cartoon
A disobedient jacket, illustrating words that begin with the letter J, annoys an off-screen narrator, which reveals two kids named Jenny and Jeff inside of it.
(First: Episode 0527)

SCENE 5
Back at the Fix-it Shop, Maria and Luis work on messing up the shiny new can that got delivered. Oscar is delighted at this, but the garbageman is stupefied.

Cartoon
Subtracting three mules
(First: Episode 0767)

Celebrity
Tennis player Arthur Ashe counts to twelve.
(First: Episode 0750)

Muppets
Grover the Assistant: The Amazing Mumford's pineapple subtraction act
(First: Episode 0280)

Cartoon
The Typewriter: J for jump
(First: Episode 0772)

Muppets
Muppet & Kid Moment — David says he can count to twelve hundred, but Farley would prefer just hearing him count to twelve.
(First: Episode 0291)

Cartoon
"Egg Chant": A girl skips rope as a boy sits with an egg on his knee. They recite an alphabet poem together. The egg hatches and a dancing lizard emerges.
(First: Episode 0003)

Cartoon
Dot Bridge #1
(First: Episode 0001)

SCENE 6
The garbageman watches in confusion as Maria and Luis load Oscar's new trash into his new can. The sponsors are announced.
Notes