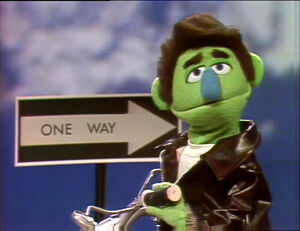 Olivia talks about being grown up, and being able to do things she couldn't do before.
"One Way": A greaser can't get to his girlfriend's house because of a "One Way" sign on the road. He thinks his relationship is ruined, until his guardian angel comes and shows him an alternate route he can take. The greaser's initial desperation -- "I'm so lonely I wish I was dead", he mourns -- turns to happiness, as the greaser and his girlfriend ride around the block on his motorcycle.
Bert sits outside on the Street, pretending to fly a helicopter. Maria sits down with him, and the segment becomes animated as they fly through the air before returning to the Street. (First: Episode 0656)
Big Bird and the kids practice going over, through and around.
Film: Horses compete in a contest to see who can pull the most cement. (EKA: Episode 0881)
Ernie & Bert — Ernie proclaims to be the world's greatest counter, yet he counts very slowly, and starts all over again if Bert interrupts him. This slowly drives Bert insane. (First: Episode 0107)
Cartoon: 5 song (twinkles, candles, diamonds, horses)
Three cars are used to illustrate big, bigger and biggest.
Farley looks for "ME", asking, "Is this me?" Nope, it's a toy cat, and a pineapple, and a mirror. Looking in the mirror, he finds himself. (EKA: Episode 0724)