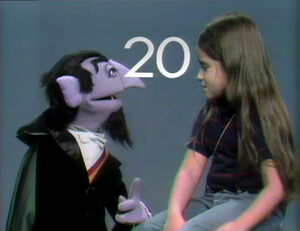 Grover does his impersonation of the number four, with Big Bird's help.
On "The Number Four Show", Big Bird tells the cast that a mystery guest will jump four times. A great commotion takes place when Mr. Snuffleupagus, the mystery guest, jumps.
Big Bird introduces The Count on "The Number Four Show", and instructs him to count only four things. The Count decides to count four kids from the audience, but he never stops counting because he decides to count the same four kids in many languages.
Film: "Listen ..." to various sounds, including the ocean, a heart beating, a clock ticking, a horse galloping, crickets chirping, a passing train, and others. (First: Episode 0951)
Cartoon: "Poverty H"-- A red man tries to think of words that begin with H, but a yellow man keeps spewing them out until Red draws a hole under Yellow, who yells "HELP!!" (First: Episode 0020)
Film: A girl gets on, in, and under a blanket in a park. (EKA: Episode 0406)
Cartoon: Fred, a singer, fails to figure out the words that rhyme with his name in the song he sings.
Cartoon: Fisherman Jones demonstrates in, on, and under with his boat and a giant "fishie". (EKA: Episode 0836)
Cartoon: A monster sees a box that keeps opening and closing, saying "Abierto" and "Cerrado" (EKA: Episode 0817)
Cartoon: A woman explains the letter H and its use in "horseshoe", when a horse comes to reclaim his shoe and starts tickling the woman. (First: Episode 0020)