Sesame Street
Plot
Oscar is expecting a group of Grouches from Cincinnati.
repeat of 0692
Air date
February 16, 1977
Season
Season 8 (1976-1977)
Sponsors
D, Z, 6

This episode guide has been compiled from materials at the CTW Archives.

ⓘ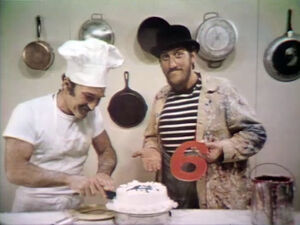 Oscar is expecting a group of Grouches from Cincinnati, and finds himself in desperate need of trash for games. His situation worsens when David and Maria refuse to give him cans and bottles that they're taking to the recycling center.
Big Bird has invited David and Maria over to dinner, but the whole thing is a flop because everything on the table is done the wrong way.
David and Maria manage to crack some walnuts only when Oscar allows the lid of his can to crush them.
Bob helps a kid make a sandwich.
Cartoon: The letter Z zooms down from a galaxy of stars. (EKA: Episode 0872)
Film: The Mad Painter paints a 6, with icing, on a birthday cake. The baker finds the cake, offers the painter a slice, and then hits him in the face with the rest of the cake. (EKA: Episode 0346)
Cartoon: A hammer and screwdriver work together to cut out a triangle. A pencil comes and uses the cutout as a stencil. (EKA: Episode 0932)
A little girl is happy with herself. She loves the things she does.
Cartoon: Kids count dinosaurs, octopuses, and paper dolls. (EKA: Episode 0926)
A cat is used to demonstrate small, smaller, and smallest. (EKA: Episode 0970)