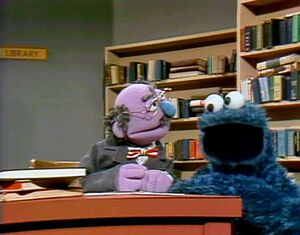 Big Bird tells Mr. Snuffleupagus that he's an imaginary creature. He says that the adults all insist that he's just a figment of Big Bird's imagination, and they know best. This makes both of them very sad. So they start to cry. Then Big Bird notices that Snuffy is shedding, which confirms that he is indeed real.
Oscar, who thinks he's a pirate, has built a long plank running out from the middle of his trash can, but Maria, Gordon and Susan protest that the plank is dangerous to passersby.
Oscar the Pirate is looking for a first victim to walk the plank, so he can fall into the ocean and be eaten by sharks. The Count is the first to walk the plank, but he ends up counting his steps.
Cartoon: "Jungle Add and Subtract" -- Ladybugs and lizards are added and subtracted. (EKA: Episode 0277)
Cartoon: A hand draws a guitarist serenading a maiden, as well as the background. (EKA: Episode 0822)
Film: A boy narrates a film of how his family trains wild ponies on the farm. (EKA: Episode 0815)
Song: "Look Around, Look Around", a song about seasons. (EKA: Episode 0600)
Cartoon: B is for Bongo Beat, Bandit, and Bottles of wine. (EKA: Episode 0277)