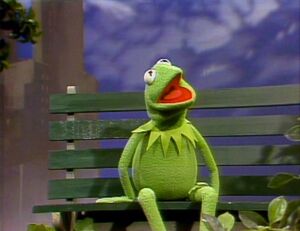 Picture
Segment
Description

SCENE 1
Bob sings "It's Easy If You Pretend" to cheer up Big Bird. They are joined by David, Maria, Gordon, Biff and a monster.

Cartoon
A hand draws a castle with a growling dragon inside, which scares the princess until her knight in shining armor leads the dragon away.
(First: Episode 0932)

Film
A film shows parts of a flower.
Music: Vivaldi's Concerto for lute, 2 violins and continuo in D Major II - Largo
(First: Episode 0008)

Cartoon
Two men compete to be in front.
(First: Episode 0789)

Muppets
"The Story of the Boy and the Girl and the Jellybeans (Part 1)"
A boy loves jellybeans and comes across a girl who's sad because she lost hers. The boy shares his bag of jellybeans with the girl, but now he has none. Will he get his jellybeans back? Stay tuned...
(First: Episode 0016)

Cartoon
A little girl tries to figure out why a dog is crying.
(First: Episode 0862)

Muppets
"The Story of the Boy and the Girl and the Jellybeans (Part 2)"
The boy who gave his jellybeans away finds the girl again. This time she's afraid of a monster, but the boy assures her that if the monster comes around, he'll be there to help out. Rewarding his kindness, she gives the boy back his jellybeans. All is well until the monster shows up and the girl reveals the reason the monster was bothering her was because he wanted the jellybeans. Now the boy has them, so she's no longer afraid. The monster eats the entire bag of jellybeans and gives the boy a kiss. Our hero is no longer afraid, but he still doesn't have jellybeans. Stay tuned....
(First: Episode 0016)

Cartoon
Fred, a singer, fails to figure out the words that rhyme with his name in the song he sings.
Artists: The Hubleys
(First: Episode 0977)

Muppets
"The Story of the Boy and the Girl and the Jellybeans (Part 3)"
The boy is mad because he has an empty bag and no jellybeans, and the girl is mad because she found her jellybeans, but she doesn't have anything to put them in. They decide to share, and the girl puts her jellybeans in the boy's bag. A happy ending with jellybeans for all!
(First: Episode 0016)

Animation
Kids narrate a letter 'Z' drawing
(First: Episode 0359)

SCENE 2
David, Gordon, Bob and Maria make sounds that relate to different jobs.

Cartoon
What if a frog and a fly switched bodies? What do you think would happen?
Artist: Cliff Roberts
(First: Episode 0406)

Muppets
Ernie & Bert — Ernie plays doctor and makes Bert be the patient for his check-up. He checks Bert's heart, mouth and more. At the end, Bert wonders how he is feeling, but Ernie can't tell him that until he's a real doctor, twenty-three years from now. Bert faints after Ernie's answer and Ernie wonders if there's a doctor in the house.
(First: Episode 0937)

Cartoon
Pinball Number Count #2
Artist: Jeff Hale
(First: Episode 0987)

Film
Sesame Street Animal Films: Kids comment over footage of an eagle's view of different kinds of roads.
Music: Joe Raposo
(First: Episode 0377)

Cartoon
An owl flies, carrying a sign that says "PELIGRO."
(First: Episode 0787)

Celebrity
Edith Ann talks about being happy and sad.

Cartoon
Speech Balloon: Z for zipper
(First: Episode 0025)

Muppets
Zs come out of Herry Monster's mouth as he snores. (part two)
(First: Episode 0307)

Cartoon
zip, zoom, zoom, zig, zag, zany, zoo.
(First: Episode 0359)

Muppets
News Flash
A princess claims that the man she intends to marry has small ears, bulgy eyes, and a funny voice, wears a hat and coat, and is a frog. Kermit is the only one who fits that description, so she kisses him and, in a puff of smoke, she turns into a frog. Kermit invites her to "the hop", and she accepts.
(First: Episode 0859)

Cartoon
Gloria sings the alphabet (uppercase version).
(First: Episode 0023)

SCENE 3
Oscar calls the Grouch Market for rhyming trash that would rhyme with ocks. A deliveryman comes and gives him some rocks, socks and clocks. Oscar wants more, but the deliveryman gives knocks instead.

Cartoon
"Count Up Elevator" -- An elevator operator stops at ten floors to pick up passengers, including a witch, a fireman, and a kangaroo. The tenth passenger, a mouse, causes the elevator to overload and explode.
(First: Episode 0003)

Film
A band plays and children dance at a Cinco de Mayo celebration.
(First: Episode 0438)

Cartoon
Dr. Frankenstein makes sure his monster knows about front and back. (Features the voice of Rick Cimino)
(First: Episode 0782)

Muppets
Marshal Grover asks Fred the Wonder Horse why he's walking backwards -- he can only see where he's been, and not where he's going. He also wants to know what happened to Fred's head. Fred explains that Marshal Grover doesn't know the difference between front and back. "That is a terrible, mean, cruel thing to say to me, Fred!" Marshal Grover exclaims. "It is true, but..." Fred tells Grover that he's facing backward, and if he turns around, he'll see Fred's head. Grover turns around, and cries: "Oh, Fred! I've missed you! Oh, it's good to see you!" Fred says that if he stays turned around, he'll be able to see where he's going. Grover tries it, and he's proud to know the difference between front and back. Unfortunately, now his head is resting on the saddle, with his feet in the air.
(First: Episode 0629)

Animation
Counting six red balls
(First: Episode 0278)

Cast
Susan, Bob, and Maria give a lesson on addition and subtraction.
(First: Episode 0633)

Cartoon
Sand Z/z
(First: Episode 0614)

Film
A percussionist on the beach talks about how rhythm is everywhere, such as in breaking waves, walking and horse galloping.
(First: Episode 0032)

Cartoon
The Typewriter: Z for Zoo
(First: Episode 0776)

Muppets
Ernie & Bert — Ernie is sad, because it's raining and he can't play baseball. Bert encourages him to imagine that he's playing instead. In Ernie's imagination, he hits a high fly ball that lands in the ocean. Bert tells Ernie that the sun is out, and he can go out and play now. Ernie says that he can't play -- his ball fell in the ocean.
(First: Episode 0410)

Cartoon
A hand draws a telephone booth.
(First: Episode 0791)

SCENE 4
Gordon demonstrates near and far by hiding balloons and having the kids find them.

Cartoon
"Two headlights, two eyes, two schoolbooks, two pies..."
(First: Episode 0926)

Animation
Kids narrate a letter 'Z' drawing (repeat)

Film
Marching band cymbal crash #2
(First: Episode 0527)

Cartoon
"Poverty X": A peanut-shaped figure lists the words that the letter "X" can be found in.
(First: Episode 0006)

Muppets
Kermit sings "A Song from Kermit."

Cartoon
Brand X
(First: Episode 0299)

SCENE 5
The kids give Mr. Snuffleupagus some cabbages to eat, then he tries to go outside to play with them, but gets stuck in the doors until the kids push him out. The sponsors are announced.
Community content is available under
CC-BY-SA
unless otherwise noted.