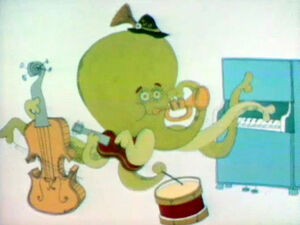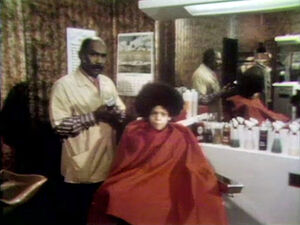 Big Bird's cousin, Herman Bird, is coming to visit from the country. Big Bird has built a house for his cousin -- but he forgot to hold the wood together, and it falls apart.
Maria asks Herman to return a watering can, thinking he's Big Bird.
Herman goes to sleep, but is woken up by the city noises, which are all strange to him.
Big Bird finally puts Herman to sleep by playing farm animal sounds on his tape recorder, but this wakes up everyone else in the neighborhood.
Cartoon: A cat makes noise with a telephone, typewriter, trumpet, and piano. When the cat leaves, the devices come to life, and when he comes back, they all sound at once, frightening the cat. (First: Episode 0844)
Film: Kids pick green beans in the field. Later their mom cooks the beans, and they eat them.
Film (stop-motion) : 'Beginning - end' - a barber gives a boy a haircut.
Film (stop-motion): 'Beginning - end' - a woman makes a sandwich.
Community content is available under
CC-BY-SA
unless otherwise noted.