Sesame Street
Oscar is grouchy at the bus stop
Air date
March 7, 1977
Season
Season 8 (1976-1977)

Sponsors
B, D, 6

This episode guide has been compiled from script materials provided by a trusted source.

ⓘ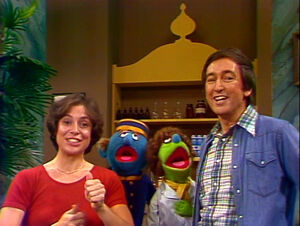 Picture
Segment
Description

SCENE 1
Oscar the Grouch plays his tape of self-recorded animal sounds for Maria. She, Bob and Mr. Hooper react negatively to the loud noise, and Oscar secretly records them yelling at him.

Cartoon
"I'm six years old today!"
Artist: Jim Simon
(First: Episode 0357)

Celebrity
Lucky Peterson sings "One, Two, Three."
(First: Episode 0620)

Animation
A puzzle of a wheel is put together.
(First: Episode 0625)

Film
"Six Song (Song of Six)."
(First: Episode 0011)

Cartoon
"Mad Goat Song"
Artist: Derek Lamb
(First: Episode 0771)

Muppets / Cast
Linda assists Bob in singing "The People in Your Neighborhood" about the elevator operator and pharmacist.

Cartoon
Splash (girl on beach)

Film
One of These Things (3 starfish and 1 crab)
(First: Episode 0516)

Muppets
Kermit at Home: Grover comes to Kermit's house to fix his sink. Kermit fills him in on a demonstration of "big, bigger and biggest" when it comes to wrenches. Even so, the sink repair goes awry, and the house floods.
(First: Episode 0821)

Cartoon
Workmen construct a D building, filled with everything that begins with D.
(First: Episode 0406)

SCENE 2
Maria, Linda, Big Bird and the Kids play a mime game about the city.

Muppets
Sesame Street News Flash
Kermit the Frog tries to find out what makes people angry, but everyone he encounters is too busy to speak to him, which ultimately causes him to lose his temper and yell at the camera.
(First: Episode 0537)

Cartoon
D-dart
(First: Episode 0292)

Film
Joe Raposo: Elephant (instrumental).
(First: Episode 0034)

Cartoon
B ... US! We're on the bus!
(First: Episode 0785)

SCENE 3
To Bob's bemusement, Oscar goes to the bus stop, not to get on a bus, but to yell at the driver of each bus that passes.

Cartoon
The word BUS
(First: Episode 0277)

Muppets
An Anything Muppet girl sings "I Want a Monster to Be My Friend."
(First: Episode 0810)

Animation
Today's Secret Drawing will be a nurse.
(First: Episode 0239)

Muppets / Cast
Bob reads "The Monster's Three Wishes," starring Cookie Monster.
(First: Episode 0634)

Cartoon
Words that rhyme with BALL (voices of Bob Arbogast and Daws Butler)
(First: Episode 0773)

Muppets
Ernie & Bert — Ernie tells Bert to stand still in front of the camera so that he can "trace" Bert's face on the screen.
(First: Episode 0536)

Film
D is a very useful letter -- there are animals, jobs, and hobbies that begin with D.
(First: Episode 0367)

Film
Tomatoes grow in a field. (edited)
Music: Joe Raposo
(First: Episode 0084)

Cartoon
Kids count dinosaurs, octopuses, and paper dolls.
(First: Episode 0926)

Cartoon
"Daddy Dear"
(First: Episode 0367)

Cast
Linda teaches a child to sign "Bus Stop."

Cartoon
The story of Aesop's "The Lion and the Mouse".
(First: Episode 0773)

Muppets
The Count extinguishes electric candles by counting them with his finger. As he heads up the stairs for bed, he steps on Fatatita. He also tells his wolf Yuba to run and play with his friends.
(First: Episode 0545)

Cartoon
B is for bubbles, bubbles and more bubbles. And Bosco, who is taking a bath.
(First: Episode 0355)

Cartoon
A child learns there's many things one can do with a stick.
(First: Episode 0803)

Film
Kids dancing.
(First: Episode 0409)

Cartoon
A farmer plants big, bigger and biggest trees.
Artist: Cliff Roberts
(First: Episode 0284)

Film
There Once Was a Hand: Skip Hinnant narrates the story of an unhappy hand that wishes he could make a noise.
(First: Episode 0007)

Cartoon
At the beach, the Bee Bee and the Barker family greet each other while saying their names that begin with the letter B.
Artist: Bruce Cayard
(First: Episode 0627)

SCENE 4
The sponsors are announced.