Sesame Street
Mr. Snuffleupagus ruins Big Bird's painting
Air date
March 9, 1977
Season
Season 8 (1976-1977)

Sponsors
U, V, 8

This episode guide has been compiled from script materials provided by a trusted source.

ⓘ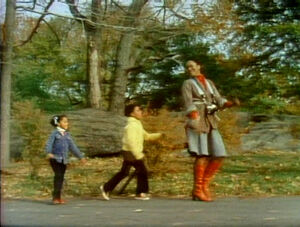 Picture
Segment
Description

Muppets
Kermit asks the viewers to play a weather imagination game. First, Kermit imagines it's a warm, sunny day. Then he imagines that it's raining hard. Then he imagines that it's a snowy, windy day.
(First: Episode 0325)

Animation
"The King of Eight"
(First: Episode 0225)

Celebrity
Peggy Fleming skates a figure 8.
(First: Episode 0236)

Cartoon
Various renderings of the word DANGER.
Artists: The Hubleys
(First: Episode 0151)

Film
While walking and reading the newspaper, a man barely avoids DANGER on three occasions, but then gets hit by a revolving door.
(First: Episode 0656)

Video
Scanimate kids intro
(First: Episode 0798)

SCENE 1
Walk the Line: Bob, Maria, Count von Count and the kids practice walking on a straight line of tape on the ground.

Cartoon
Two men, one named Virgil Veep, discuss the letter V as they stand atop a capital V.
(First: Episode 0110)

Cartoon
V in space
(First: Episode 0481)

Film
An Hispanic boy gets up, gets dressed, and goes to school as Spanish music plays (A la luna no voy yo).
(First: Episode 0429)

Cartoon
Small v... (Spanish version)
Artist: John and Faith Hubley
(First: Episode 0389)

Muppets
The Twiddlebugs try to figure out how to get to the zoo. They notice it's too far to walk, swim, or fly. Then they notice their Twiddle-car. (short intro)
(First: Episode 0603)

Cartoon
Small v ... for voom, voice, violin, etc.
Artist: The Hubleys
(First: Episode 0167)

SCENE 2
Big Bird finishes his spring cleaning, but doesn't know where to put all the disposed trash. Maria says he can put it in one of the trash cans in front of her place. He takes a can, but realizes it's full, so he starts emptying all the trash out of it so he can put his own in it.

Cartoon
A red man tries to get apples from a tree by himself, while a yellow man builds a ladder.
(First: Episode 0779)

SCENE 2
cont'd
Maria is appalled at Big Bird's littering, so he begins putting the other trash into the bin, one load at a time.

Cartoon
On a snowy day, a cold man desires firewood. He carries a huge log up the hill multiple times, but it rolls down each time. Using his "wits", he pushes his house down to the bottom of the hill to be closer to the giant log.
(First: Episode 0799)

SCENE 2
cont'd
Big Bird has finished filling the bin, but now realizes it's too heavy to take over to his nest. Maria tells him how he can plan better the next time he has a lot of trash to dispose of, but Big Bird doesn't feel like cleaning his nest again.

Cartoon
Things say that other things are small, but then something comes along that's bigger, or smaller, or whatever.
(First: Episode 0320)

Muppets
Waiter Grover: Hamburger - Mr. Johnson wants a hamburger. The restaurant offers two sizes: the big hamburgers and the small hamburgers. When the small hamburgers are too small, he orders a big one, but because there have been some problems with the big hamburger, Grover tries to convince him to order several small ones.
(First: Episode 0705)

Cartoon
"All right, now that you've eaten everything in sight, would you mind telling me what you plan to have for dessert?"
(First: Episode 0006)

Film
A girl gets a pair of earrings, intercut with shots of other people's earrings. (Spanish)

Cartoon
A photographer tries to look for some animals quietly, but they all end up secretly following him.
(First: Episode 0799)

Cast
Bob plays an explorer named Faversham Svedwick who spends twenty years searching all over the globe for Kermit the Hermit, the Wisest Man in the World. When he finds him, he challenges him to a game of tag.
(First: Episode 0974)

Muppets
Ernie & Bert — Ernie brings an umbrella, a flashlight, and Bert's bowling ball to the bathtub, just in case the electricity goes out, the roof leaks, and somebody shows up asking to borrow a bowling ball. Bert thinks that Ernie is being ridiculous -- but everything happens, just as Ernie predicted.
(First: Episode 0269)

Animation
Sand V/v
(First: Episode 0637)

Cast
Olivia sings "Everything Grows."

Cartoon
A man weighs five pounds of bubble gum. He chews it all, blows a huge bubble, and flies away.
(First: Episode 0617)

Film
A turtle walks slowly.
Music: "Funeral March of a Marionette" by Charles Gounod
(First: Episode 0281)

Muppets
A Large Lavender Live Hand Anything Muppet cowboy shouts across a canyon to hear the echo. "Yippee ki-yi-yo!" is repeated back to him perfectly. When he shouts "One!", the echo repeats back, "¡Uno!" The cowboy is startled. "Two!" he shouts, and the echo repeats, "¡Dos!" "You s'pose that's Mexico over there?" he asks. He continues to count to ten, with the echo repeating the numbers back in Spanish. Frustrated, he shouts, "How are you?" "¡Muy bien, gracias!" is the reply. "Oh, this is ridiculous," the cowboy says, and throws his cowboy hat into the canyon. A sombrero is thrown back in return.
(First: Episode 0698)

Cartoon
Kids count from 1 to 10, then 10 to 1, as the numbers are displayed over colored lights.
(First: Episode 0931)

SCENE 3
Mr. Snuffleupagus looks closely at a painting Big Bird is doing, and accidentally causes Big Bird to smear it. Snuffy apologizes profusely, and Big Bird says he forgives him, though he's clearly holding his anger back.

Cartoon
Pinball Number Count #8

Cartoon
A boy needs a letter U to complete the word UP.
(First: Episode 0416)

Film
Sesame Street Animal Films: A baby reindeer takes its first steps. (Music: Joe Raposo)
(First: Episode 0003)

Cartoon
"The Noble Ostrich", a segment about the day-to-day activities of ostriches. Includes an animated appearance by Big Bird.
Artist: Bruce Cayard

SCENE 4
Big Bird processes his feelings of frustration by talking to the viewer. He decides to take a walk to cool off.

Cartoon
Madrigal Alphabet
Artist: Jeff Hale
(First: Episode 0615)

SCENE 4
cont'd
Snuffy processes his feelings of shame and remorse by talking to the viewer, hoping Big Bird will forgive him.

Cartoon
Capital letter U for up
(First: Episode 0416)

Muppets
Cookie Monster sings a rock song about his cookie obsession.
(First: Episode 0506)

Cartoon
Dot Bridge #1
(First: Episode 0001)

SCENE 5
As Big Bird draws a picture of himself and Snuffy, Snuffy agrees to watch him from a distance this time. The sponsors are announced.