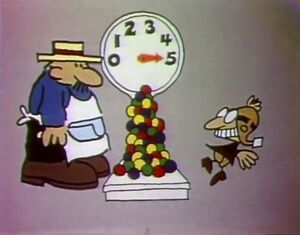 Kermit the Frog asks the viewers to play a weather imagination game. First, Kermit imagines it's a warm, sunny day. Then he imagines that it's raining hard. Then he imagines that it's a snowy, windy day. (EKA: Episode 0325)
Maria helps Big Bird plan his spring cleaning.
Waiter Grover: Mr. Johnson wants a hamburger. Grover tells him that Charlie's Restaurant offers two sizes: the big hamburgers and the small hamburgers. When the small hamburgers are too small, he orders a big one, but because there have been some problems with the big hamburger, Grover tries to convince him to order several small ones. Mr. Johnson finally loses his patience and demands his large hamburger. Grover winds up delivering a colossal-sized hamburger that he is barely able to carry; the burger is so huge that he crashes through the doors and adjacent walls, causing damage. (EKA: Episode 0705)
Cartoon: A man weighs five pounds of bubble gum. He chews it all, blows a huge bubble, and flies away. (First: Episode 0617)
An Anything Muppet cowboy shouts across a canyon to hear the echo. "Yippee ki-yi-yo!" is repeated back to him perfectly. When he shouts "One!", the echo repeats back, "¡Uno!" The cowboy is startled. "Two!" he shouts, and the echo repeats, "¡Dos!" "You s'pose that's Mexico over there?" he asks. He continues to count to ten, with the echo repeating the numbers back in Spanish. Frustrated, he shouts, "How are you?" "¡Muy bien, gracias!" is the reply. "Oh, this is ridiculous," the cowboy says, and throws his cowboy hat into the canyon. A sombrero is thrown back in return. (EKA: Episode 0698)
Film: An Hispanic boy gets up, gets dressed, and goes to school as Spanish music plays (A la luna no voy yo). (EKA: Episode 0829)
Cartoon: A man finds a large log that's perfect for his fireplace, but finds it too heavy to move. So, he moves his house to the log. (EKA: Episode 0939)
Community content is available under
CC-BY-SA
unless otherwise noted.