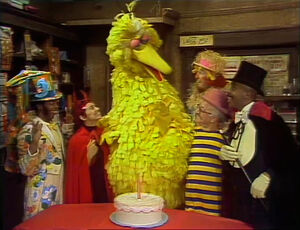 Cartoon: A cat tries to teach the alley cats to play music in harmony. (EKA: Episode 0926)
Oscar's pet fly Freddy demonstrates the parts of the body.
Cartoon: A boy asks a girl to guess what's in his hands. It turns out to be an elephant. (First: Episode 0557)
Apples are used to show first and last.
Cartoon: A girl has a stick, which is used by a tightrope walker, clown and marching band leader. (EKA: Episode 0960)