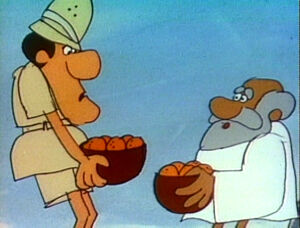 Cartoon: The weary traveler asks the wise man to demonstrate none, some, and all with a basket of oranges.
Cartoon: A mad inventor reveals his greatest invention. He throws a switch, and the letter H stands up. (EKA: Episode 0887)
The Inchworm Game: Kids move forward and backward on the ground like an inchworm.
Cartoon: A girl imagines herself as a car that rescues fire victims. (EKA: Episode 0598)
Cartoon: Cloud blows things FFFFFFFF