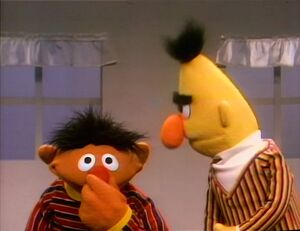 The Count counts his blessings.
Herry spots a rectangle first. Grover tells Herry it isn't a triangle, and becomes frustrated. Next he spots a square, Grover tells him it isn't a triangle, and once again is frustrated. Grover suggests that Herry should cut the square in half and make two triangles. (EKA: Episode 0266)
Ernie & Bert — Ernie thinks that he isn't special. Bert tells Ernie to feel his nose -- "That's an Ernie nose!" -- and then feel his hair, and wiggle his fingers. Bert says that nobody else is just like Ernie. Encouraged, Ernie tells the audience to do the same. (First: Episode 0276)
Cartoon: Two small stripes watch as two circles play with each other. The stripes try to bend themselves into circles, but soon find that they can both cooperate to make one big circle. (EKA: Episode 0829)
Film: Footage of an animal auction, where they auction off animals to dairy farmers and the like.
Film: How sweaters are made from sheep's wool.
Muppets: Sesame Street News Flash - Kermit the Frog interviews the Invisible Man, who tap dances for him, and later introduces his family which crowds Kermit. All that is seen of the Invisible Man and his kin are their hats.
Community content is available under
CC-BY-SA
unless otherwise noted.