Sesame Street
Gordon invites Mr. Hooper to a party
Air date
March 29, 1977
Season
Season 8 (1976-1977)

Sponsors
D, P, 11

This episode guide has been compiled from script materials provided by a trusted source.

ⓘ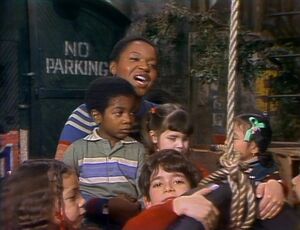 Picture
Segment
Description

SCENE 1
Big Bird surprises Gordon with a gift, and wants him to guess what it is. He gives Gordon some clues: it's used on a part of the body, is black, and has teeth. It turns out to be a comb, which Gordon can't use because he's bald.

Cartoon
A girl wonders what it would be like if elephants were as easily frightened as bugs.
(First: Episode 0595)

Film
A boy compares the growth of the sunflowers to his own height.
Music: Joe Raposo
(First: Episode 0589)

Muppets
Ernie & Bert — Ernie is tall, Bert taller, and Big Bird is the tallest (and he also breaks the ceiling).
(First: Episode 0284)

Cartoon
What if my best friend were a gorilla?
(First: Episode 0598)

Film
Sheep dog

Insert
Olivia sings "Children of the World."

Cartoon
Workmen construct a D building, filled with everything that begins with D.
(First: Episode 0406)

Film
A police officer follows clues that lead to a bathtub stolen by a gorilla.
(First: Episode 0491)

Cartoon
Speech Balloon: D -- Dog (role reversal between man and dog)
(First: Episode 0016)

Muppets
Ernie & Bert — Ernie is sad, because it's raining and he can't play baseball. Bert encourages him to imagine that he's playing instead. In Ernie's imagination, he hits a high fly ball that lands in the ocean. Bert tells Ernie that the sun is out, and he can go out and play now. Ernie says that he can't play -- his ball fell in the ocean.
(First: Episode 0410)

Cartoon
A top-hatted man tries to show a girl how many uses a box has, but she prefers kicking it.
(First: Episode 0763)

Film
Joe Raposo: On the beach (instrumental)
(First: Episode 0411)

Cartoon
A monster sees a box that keeps opening and closing, saying "Abierto" and "Cerrado."
(First: Episode 0771)

Insert
Luis places an "ABIERTO" sign in the window of the Fix-It Shop. Business doesn't seem active, so he changes it to "CERRADO" and steps out. While he's gone, Bob and Susan try to stop by and discover the shop is closed. Luis returns and opens the shop, where business still seems slow.
(First: Episode 0948)

Animation
Sand D/d
(First: Episode 0640)

Celebrity
Richard Pryor uses his hat to participate in playing cars with kids.
(First: Episode 0779)

Cartoon
Number count to 20 (w/ cameo appearance by Cookie Monster), followed by cast list at the end.
(First: Episode 0350)

Song
"Here Come the Beans"
(First: Episode 0537)

Muppets
Muppet Hands count to 11.
(First: Episode 0183)

Cartoon
Two groups of mountain goats try to pass each other on a mountain road.
(First: Episode 0780)

Cartoon
A letter "P" sits on an island before a rotating sunset. The ridges of the letter "P" moves along the letter and flash in different colors.
(First: Episode 0452)

Film
A CERRADO sign spins around. A girl tries opening the door, but it's closed.
(First: Episode 0937)

Muppets
Kermit smells smoke. An Anything Muppet girl tells him that there's a fire "over there", and Kermit screams for the fireman. Grover comes along wearing a white coat and a stethoscope; then carrying a pitchfork, and talking about his cows, chickens and the barn. Kermit reminds him that a fireman puts out fires. When Grover finally arrives with a hose, they discover that the fire is coming from the girl toasting marshmallows over a small campfire.
(First: Episode 0348)

Cartoon
P is for Puddle
(First: Episode 0452)

Film
Kids narrate a film about bank tellers and the machines they use.
(First: Episode 0783)

Celebrity
Stevie Wonder performs his hit single "Superstition".
(First: Episode 0514)

Cartoon
Henson: Eleven Cheer
(First: Episode 0273)

Muppets
Harvey Kneeslapper asks, "Would ya like one?"
(First: Episode 0408)

Song
Sesame Street Animal Films: "Rockabye Baby" is sung to a sleepy koala.
(First: Episode 0048)

Muppets
Ernie & Bert — Bert tells Ernie to put away his toys, and Ernie devises a system of arranging them. Unfortunately, all the categories he names apply only to his toy fire engine.
(First: Episode 0281)

Cartoon
A boy tries to guess what a voice belongs to by asking it questions, and wins a ride on a giraffe.
(First: Episode 0795)

SCENE 2
Gordon gets some groceries at Hooper's Store before it closes. Mr. Hooper assumes he must be throwing a party, but Gordon has trouble remembering something he forgot. When Mr. Hooper is about to close the store, Gordon remembers what he forgot: to give Mr. Hooper his invitation.

Muppets
Sesame Street News Flash: Young George Washington
(First: Episode 0916)

Cartoon
A short bird stands under a tall bird, which lays an egg on its head.
(First: Episode 0303)

Film
Counting 1-20 (planes taking off)
(First: Episode 0798)

Cartoon
Workmen construct a D building, filled with everything that begins with D. (repeat)

SCENE 3
As a party happens inside Gordon's apartment, the sponsors are announced.