Sesame Street
Susan and Gordon get up early / The Count and the pesky cow
Air date
March 31, 1977
Season
Season 8 (1976-1977)

Sponsors
A, K, 2

This episode guide has been compiled from script materials provided by a trusted source.

ⓘ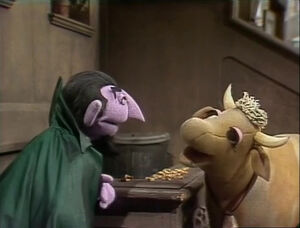 Picture
Segment
Description

SCENE 1
In the early hours of the morning, an alarm goes off in Gordon and Susan's apartment. Gordon intends for he and Susan to start their day earlier than normal, thinking they'll have more time to get ready and be together before going to work. They both get out of bed, still groggy. Gordon goes outside for fresh air while Susan hops in the shower. Gordon starts falling asleep on the stoop and gets woken by an alarm going off in Oscar's trash can. Gordon goes to prepare breakfast, but falls asleep again as he reads the instructions on the oatmeal container. Susan finishes her shower, now wide awake, and sees Gordon sleeping. She decides to make breakfast and surprise him.

Muppets
Kermit's Lectures: Kermit and Grover demonstrate short and long -- Kermit sings and hops for short periods, while Grover does them for long periods. Finally Grover asks if he can do the short thing and Kermit do the long thing. To Grover's detriment, it turns out to be tickling!
(First: Episode 0560)

Cartoon
A man uses drinking glasses on his eyes and pours water over his seeing glasses.
(First: Episode 0485)

SCENE 2
Gordon gets woken up and sees Susan has prepared a full breakfast for them. He's discouraged that he blew his chance to prepare breakfast, but perks up as he starts to eat.

Cartoon
"Jazz #2"
(First: Episode 0001)

Muppets
Ernie & Bert — Ernie stacks cups and saucers in order to count them, making Bert quite nervous. Luckily, they're glued together.
(First: Episode 0586)

Cartoon
A circle becomes a clock, balloon, sun, etc.
(First: Episode 0358)

SCENE 3
As the couple washes the dishes, Susan compliments Gordon's plan. He doesn't think it was as successful, since she did all the work and he just fell asleep. She tells him they can take turns - tomorrow, Gordon can shower and make breakfast while she sleeps in the kitchen.

Muppets
Sesame Street pageants: Prairie Dawn directs the cast in a pageant about the face. Ernie talks about eyes, Cookie Monster talks about the mouth, Bert and Grover talk about ears, and Herry Monster talks about the nose. At the end of the pageant, they assemble a picture of a face.
(First: Episode 0711)

Cartoon
An old woman emerges from the pouch of a bouncing kangaroo. She proclaims, "K! Kangaroo!"
(First: Episode 0489)

Film
A group of kids enter a door marked ENTRADA.
(First: Episode 0939)

Cartoon
A boy puts a red and green monster together using a diagram.

Muppets
Five balls get together to play basketball. It takes them awhile to count themselves, but then they realize they don't have a ball.
(First: Episode 0267)

Cartoon
K for keyhole, ketchup, and kitten
(First: Episode 0489)

Animation
Sand K/k
(First: Episode 0645)

Film
George the Farmer's ladder gets taller and shorter, as does his box of berries.
(First: Episode 0289)

Cartoon
The long rattlesnake thinks he's better than the short one, until the short one outsmarts him by making him bite his own tail. "Wanna borrow my snakebite kit?"
Artists: Bud Luckey and Rudy Zamora
(First: Episode 0955)

Film
Kids narrate footage of humans and animals overcoming obstacles, particularly a boy trying to ride a two-wheeler.
(First: Episode 0132)

Muppets
Kermit the Frog draws the letter K on the screen with his "magic finger."
(First: Episode 0515)

Film
A panda tries to scratch an itch.
(First: Episode 0931)

Cartoon
Words that begin with A, ending with ambulance
Animated by Cliff Roberts
(First: Episode 0132)

Cartoon
A for Ape (who crashes into a tree and forms a SHAPE)
(First: Episode 0602)

Film
A man (Barry Simpson) puts on snowshoes to bring his trash out.
Music: Joe Raposo
(First: Episode 0281)

Cartoon
"Jazz #2" (repeat)

Film
Several people help a man when his car is stuck in the mud.
(First: Episode 0619)

Cartoon
A boy is drawn, but he doesn't have knees at first.
(First: Episode 0954)

Muppets / Cast
David sings "The People in Your Neighborhood" with the librarian and plumber.
(First: Episode 0718)

Film
Geese and their goslings swim in the water.
(First: Episode 0388)

Animation
Leaves and a tree trunk find the right place they belong.
(First: Episode 0793)

Muppets
Ernie & Bert — Ernie has a licorice whip that he offers to share with Bert. He divides it in half with a pair of scissors, but then discovers that Bert's half is longer than his. He cuts off a little bit of Bert's half, and eats it. Then he discovers that his own half is longer than Bert's, and that's not fair, so he cuts a bit off of his own, and eats it. Ernie goes back and forth, cutting off more and more, until the licorice whip is gone.
(First: Episode 0461)

SCENE 4
The Count sets out some breadcrumbs, hoping it will attract some birds for him to count. Instead, a cow comes by, pretending to be a bird, and wishes to be counted. The Count finds this ridiculous and quickly counts her so he can be rid of her.

Muppets
Muppet & Kid Moment — Kermit, Shola and Fannie talk about giraffes, leading to...
(First: Episode 0570)

Film
Sesame Street Animal Films: a herd of giraffes move their way through a field.
(First: Episode 0316)

Song
"Three of These Kids" (barbells)
(First: Episode 0474)

Cartoon
A man uses drinking glasses on his eyes and pours water over his seeing glasses. (repeat)

SCENE 5
Not a single bird has taken the Count's bait yet, to his dismay. Furthering his annoyance, the cow returns to see if she can be counted again. The Count tells her that the counting process doesn't work if he just counts the same cow again and again. The cow gets an idea and dashes off.

Muppets
Lefty's boss tells Lefty the plan for what to do with the Golden AN, which they have just stolen. Lefty is to put it in the tan van and give it to Dan, who will take it to Fran. However, Lefty can't remember the plan very well and has to repeat it, which results in a police officer named Stan hearing the plan and giving him "ten days in the can for stealing the Golden AN."
(First: Episode 0523)

SCENE 5 cont'd
The cow returns wearing a hat and claiming to be a different cow. The Count plays along and counts "second" cow, then the "third" and "fourth" one, each with a different hat. The cow claims she'll stop this once she runs out of hats, of which she has a million ("Give or take a dozen."). The Count's interest is finally piqued.

Song
Joe Raposo sings "Two is You and Me."
(First: Episode 0375)

Cartoon
Dot Bridge #6: Dot blows raspberry
(First: Episode 0001)

SCENE 5 cont'd
The Count counts the myriad of hats surrounding himself and the cow, who is happy she is of use.
Community content is available under
CC-BY-SA
unless otherwise noted.