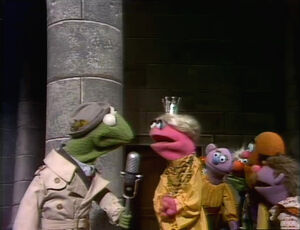 Big Bird believes that everybody should speak Spanish when they see the sign "Se hablo Español".
Ernie & Bert — Bert is trying to write a letter to Mr. Rogers, but finds it difficult when Ernie operates his electric fan right next to him. Bert blows up at Ernie and says he is "hot and bothered," and Ernie has just the thing for that: more cool air. (EKA: Episode 0573)
Sesame Street News Flash: A princess says that the one she has chosen to be her prince has bulgy eyes, small ears, and a funny voice, is wearing a hat and coat... and is a frog. Kermit the Frog is the only one who fits that description, so she kisses him, thinking he'll become a prince. In a puff of smoke, she turns into a frog. Kermit invites her to "the hop" and she accepts. (First: Episode 0843)
David sorts by function using some hats and a glove.
Cartoon: A man shows how a scale works by weighing himself. (EKA: Episode 0861)
Film: Some clowns, more clowns
Cartoon: Gloria, a rambunctious little girl, sings the alphabet song while an adult gives her instructions. (lowercase version) (First: Episode 0010)