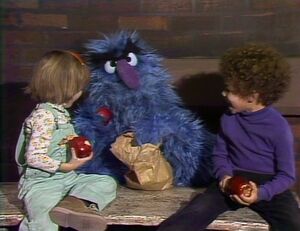 Picture
Segment
Description

Insert
Guy Smiley hosts the "The Anything-in-the-World Prize Game" and asks questions to random people on the street. The winner gets to choose the prize. His guest is Oscar the Grouch, who doesn't want to be bothered by Guy Smiley and accidentally gets every answer right. Since Oscar gets to have whatever he wants for a prize, he asks Guy to get lost.
(First: Episode 0915)

Cartoon
A man jumps into a poster of Lake Lillian.
(First: Episode 0347)

Muppets
Alphabet Chat: Lord Chatterly's poem on the letter L ends in chaos as usual.
(First: Episode 0762)

Cartoon
Speech Balloon: L--Loud
(First: Episode 0783)

Film
A kid narrates footage of a termite colony.
(First: Episode 0408)

Muppets
An Anything Muppet brings his broken BUS (the word) to a garage for a mechanic to fix up.
(First: Episode 0455)

Video
Scanimate kids intro
(First: Episode 0798)

Film
A gym instructor helps children perform a variety of stretching and bending exercises.

Cartoon
Kids on a bench wait for the bus: "Here comes the bus!"
(First: Episode 0632)

Film
Spinning Bus Stop sign
(First: Episode 0931)

Cast
Maria sings "Scream."
(First: Episode 0697)

Film
The Mad Painter #6
(First: Episode 0335)

Cartoon
A magician tries to make six circles disappear.
(First: Episode 0783)

Muppets
Ernie & Bert — While Ernie looks after Hooper's Store, Bert asks him for something to drink. Ernie starts out with a glass of unflavored soda water, tastes it, and decides it's too dull for his ol' buddy Bert. To Bert's dismay, Ernie then adds some strawberry syrup to the soda water, then a scoop of ice cream, and finally, some whipped cream. Now it's an ice cream soda, which Bert doesn't want... but Ernie does.
(First: Episode 0539)

Cartoon
Donnie Budd counts six snails, six ships, and six whales.
Artist: Bud Luckey
(First: Episode 0324)

Film
Seals make noise.
(First: Episode 0279)

Cartoon
"Magic Pig"
Artist: Vince Collins
(First: Episode 0772)

Cast
Bob plays an explorer named Faversham Svedwick who spends twenty years searching all over the globe for Kermit the Hermit, the Wisest Man in the World. When he finds him, he challenges him to a game of tag.
(First: Episode 0974)

Cartoon
The Magnificent Splasho demonstrates before and after.
(First: Episode 0694)

Muppets
A Carmen Miranda-style Anything Muppet sings "No Matter How You Count Them, they come out the same!"
(First: Episode 0227)

Film
Sesame Street Animal Films: The snouts, tails and bodies of pigs, with a soundtrack of pigs squealing.
(First: Episode 0179)

SCENE 1
Maria and the kids play a "Here Are Some Things" game, classifying tools that can cut and refrigerator.

Muppets
Ernie & Bert — Ernie comes up with a way for him to remember to put his basketball away before he goes to sleep: he remembers things with his brain, which is in his head; his head is round, and so is the basketball. His plan works the first time, but not when Bert wants to go to sleep.
(First: Episode 0134)

Muppets
Muppet & Kid Moment — Herry Monster and two kids share a bag of apples.

Film
Joe Raposo: What Babies Are Called
(First: Episode 0116)

Cartoon
A mouse tries looking for his pet, describing to his friend what they did yesterday.
(First: Episode 0782)

Film
Counting the circus clowns.
(First: Episode 0501)

Cast
The cast shows different L words - Maria turns on a lamp, Luis finds an L in his lunchbox, and Bob lassoes a letter L.
(First: Episode 0972)

Cartoon
Speech Balloon: L--Loud (repeat)

Film
Sesame Street Animal Films: Animal camouflage (kid VO's)
Music: Joe Raposo
(First: Episode 0366)

Cartoon
A hammer and chisel cooperate to carve a triangle out of wood, which a pencil uses to draw some.
(First: Episode 0932)

Muppets
Ernie & Bert — Ernie has a so-called "magic" chain which can form into any shape he wants. Bert is dismissive of the chain's magic properties. And yet, when Bert asks for the chain to provide a sandwich, it does.
(First: Episode 0617)

SCENE 2
Maria goes to Hooper's Store for lunch, where Mr. Hooper gives her a plate of liver, cooked carrots and lima beans – his favorite dish, but definitely not hers. She is hesitant to tell him directly that she doesn't like these foods, but soon musters up the courage, and trades her lunch for Mr. Hooper's salad.

Cartoon
O for orange
Artist: Bruce Cayard
(First: Episode 0673)

Film
Counting 20 boxes
Music: Joe Raposo
(First: Episode 0510)

Cartoon
An O rolls over and over a horse. The horse eats the O.
Artist: John Paratore
(First: Episode 0173)

Celebrity
Helen Reddy sings "Grow."
(First: Episode 0774)

Cartoon
A fat man and a small man demonstrate top and bottom.
(First: Episode 0525)

SCENE 3
The sponsors are announced.