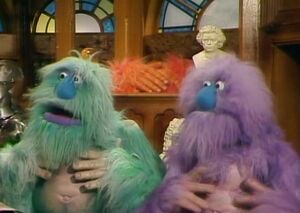 Farkas Faffner, the new proprietor of the music conservatory Faffner Hall, plans to auction off the hall's collection of musical instruments. The late Fughetta Faffner, a distant relative of Farkas and the founder of the hall, is horrified when she learns of Farkas' plans. The residents of the hall, including Riff, Mimi, the Wild Impresario and the ghost of Fughetta, attempt to teach Farkas that instruments are worth more than their monetary value.
Guest star Bobby McFerrin shows that he can express himself using his body, performing "My Body Is My Instrument". Other guest stars are double bass player Gary Karr and trumpet player Hakan Hardenberger.
Characters
Main Characters
Background Characters
Community content is available under
CC-BY-SA
unless otherwise noted.