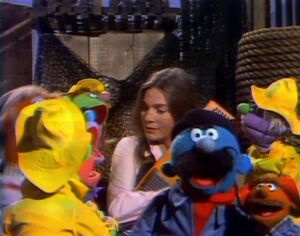 Super Grover: Young Willy Nillie is scared to get his hair cut. Super Grover tells Willie that haircuts are scary, but he must be brave. However, a barber shows them both that haircuts do not hurt, and soon they are no longer afraid of hair cuts. (EKA: Episode 0717)
Cartoon: Poor Solomon Grundy washes a different part of the left side of his body every day, but at the end of the week, "he's still half dirty!" (First: Episode 0001)
Linda and an announcer use sign language to tell the story of the fisherman and the fish.
Film: A blind woman explains to a little girl how she knows when to cross the street. (EKA: Episode 0994)
Cartoon: A concert pianist shows up in a construction worker's lunchbox, singing the alphabet. (First: Episode 0449)
Cartoon: A baby looks at a DANGER sign and imagines what it means. (First: Episode 0933)
Luis and the kids sort by quantity.
Cartoon: Three birds enter a cuckoo clock to do their job. (EKA: Episode 0543)
Cartoon: A carnival barker hawks his invisible chicken, but the children customers point out it quacks like a duck and leaves webbed footprints.
Community content is available under
CC-BY-SA
unless otherwise noted.