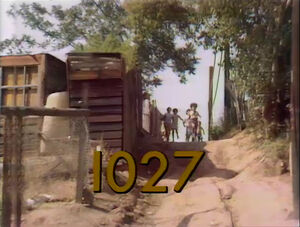 Picture
Segment
Description

SCENE 1
Big Bird is very excited because Buffy is coming back to Sesame Street today. To the mark the occasion, he's donned his best necktie and obtained a nice flower to give her. He darts down the street, making sure everyone is aware of Buffy's impending arrival.

SCENE 1 cont'd
Inside Hooper's Store, David prepares some lunch for the occasion, with the Count aiding by counting out parts of the recipe. Big Bird wishes to help, offering to make some birdseed brownies. David points out only he likes that kind of food. Big Bird then offers to help cook, forcing himself into stirring and causing a bit of a mess. David sends him out to find someone else he can help instead.

Cartoon
Pinball Number Count #4
(First: Episode 0984)

Muppets
Muppet & Kid Moment — Grover and John-John count to 20.
(First: Episode 0476)

Animation
4 people, 4 wheels, 4 doors, and 4 windows make a carpool.
(First: Episode 0910)




SCENE 2
Big Bird sees if Gordon needs help polishing his car in the carriage house but is immediately turned away. He then spots Maria on the fire escape, getting things ready in her spare bedroom for when Buffy and the family arrive. Winnie Wiggins comes by to drop off a can of paint she'll need. Big Bird offers his services again but is told once more that he might mess things up.

Cartoon
Gloria sings the alphabet (uppercase version)
(First: Episode 0140)

Film
A young baboon sits on the back of their parent as they cross the plain.
Music: Joe Raposo
(First: Episode 0299)

Cartoon
Letter U salesman
(First: Episode 0202)

SCENE 3
Big Bird tells Herry Monster about his woes. Bob comes by carrying a large chair to go into Buffy's room at Maria's. Big Bird offers to build a nest for Buffy, then asks to carry the chair instead. Herry offers to toss the chair upstairs, but Bob has things covered. Big Bird has finally had it, believing the adults want to have all the fun of getting ready for Buffy's arrival. He resolves to stay in his nest and never come out.

Cartoon
"Poverty U" -- A figure gives a salute to the letter U, and presents the letter with a bouquet of flowers.
Artist: Cliff Roberts
(First: Episode 0036)

Muppets
Ernie & Bert — Ernie tells Bert to stand still in front of the camera so that he can "trace" Bert's face on the screen.
(First: Episode 0536)

Cartoon
U for Ugly: A man removes his mask, revealing a hideous monster face.
(First: Episode 0468)

SCENE 4
Big Bird sits alone in his nest, still vowing to never come out.

Cartoon
"Mad Goat Song"
Artist: Derek Lamb
(First: Episode 0771)

Muppets
Muppet & Kid Moment — Bert and David display their mad and happy faces.
(First: Episode 0343)

Film
'Beginning/End' - A man paints a picture.
(First: Episode 0411)

Muppets
Betty Lou teaches the meaning of "beginning", "middle", and "end", and introduces two of her friends: Beginning and End. The duo tell a story, but it lacks something in between the beginning and end parts. Beginning and End recruit their pal Middle to fill out the rest of the story. Middle, however, cannot stop telling the exciting part of the story, and the three friends begin a quarrel, forcing Betty Lou to declare the end of the lecture.
(First: Episode 0138)

Film
'Beginning/End' - Kids wait in line at a movie theater.
(First: Episode 0411)




SCENE 5
While Big Bird continues sulking, Herry waits by the bus stop for Buffy, as he will loudly alert everyone once her bus arrives. Buffy instead arrives from the opposite end of the street; she missed her bus, had to take the train, and then walk all the way to Sesame Street. Herry loudly declares her arrival, and everyone gathers around to fawn over her. She tells them Sheldon and the baby will be arriving in a few days. As they all head off to get her settled in, Big Bird takes a peek at what he's missing and glumly resumes shutting himself off from the world.

Film
In voiceover, the Count counts four babies.

Cartoon
Typewriter: U for Umbrella
(First: Episode 0808)

Film
Animals fight.
Music: Joe Raposo
(First: Episode 0567)

Muppets
Cookie Monster and Ernie: During Ernie's naptime, Cookie Monster tries to steal and eat Ernie's pillow by distracting him with a bell.
(First: Episode 0035)

Animation
Drawing a chicken (child V/O in English and Spanish)
(First: Episode 0451)

Muppets
Kermit's Lectures: Kermit gives a lecture about rectangles. Cookie Monster smashes the shape, but says it'll still work out: "It's a wreck -- and it's a tangle!"
(First: Episode 0017)

SCENE 6
Before going to lunch, Buffy wants to visit with Big Bird. Maria is slightly confused as to why he wasn't present for her arrival, since he was the most excited for it.




SCENE 6 cont'd
Buffy goes to the nest and finds him rather despondent as he explains what happened today. Buffy puts him at ease by taking a few moments of quiet relaxation by his nest, claiming this is helpful after her trip. Big Bird perks up and presents his flower, which has gotten smushed in his nest. The two then head off to get lunch.

Film
Footage of a Chinese noodle factory.
(First: Episode 0984)

Cartoon
The word SALIDA exits through a white square.
(First: Episode 0588)

Muppets
A barbershop quartet sings about counting floors when they go up and down in an elevator.
(First: Episode 0889)

Cartoon
SALIDA (train)
(First: Episode 0537)

Film
Kids compare animals and human tools and technology.
(First: Episode 0491)

Cartoon
Footprints move over to the tune of "Here Are Some Things".
(First: Episode 0505)

Film
A warthog runs around.
Music by Joe Raposo
(First: Episode 0406)

Cartoon
Two men on a park bench turn their radios up louder and louder, each trying to drown the other's out, until they reach a station they can agree on.
Artist: Bruce Cayard
(First: Episode 0796)

Cast
David and Luis assemble a fractured letter U.
(First: Episode 0468)

Cartoon
U for Ugly: A man removes his mask, revealing a hideous monster face. (repeat)

Muppets
Ernie & Bert — Ernie eats one of Bert's cookies and doesn't know what to tell him. Bert observes that there are four cookies when there should be five. No matter how Ernie arranges them, there are still four cookies. Since Bert doesn't want to see four cookies, Ernie eats another one, making it three instead of four.
(First: Episode 0238)

Cartoon
Dot Bridge #3: Last dot shows up early
(First: Episode 0001)

Film
A girl gets a pair of earrings, intercut with shots of other people's earrings.
(First: Episode 0422)

Cartoon
Kids narrate a Letter 'Z' Drawing
(First: Episode 0359)

Muppets
The Martians find a telephone.
(First: Episode 0398)

Cartoon
zip, zoom, zoom, zig, zag, zany, zoo.
(First: Episode 0359)

SCENE 7
Buffy talks with Sheldon on the phone before rejoining the party. She begins to play "Sweet Little Vera" on her guitar, and everyone sings and dances along. Herry announces the sponsors.




CLOSING SIGNS
Gordon holds up the Sesame Street sign, while Susan holds up the CTW sign.