The second regular episode of the French production Muppets TV featured Bob Sinclar and Elie Semoun.
It first aired November 5, 2006, on French network TF1.
Cast
Guest appearances by
Muppets:
Production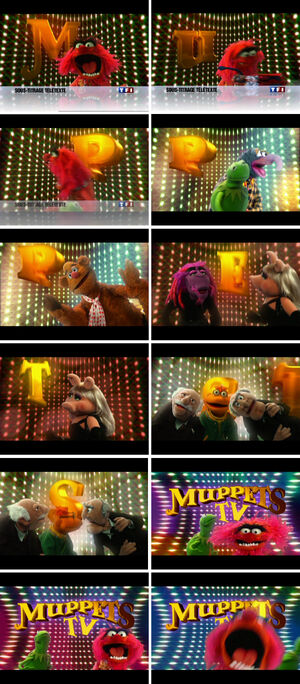 Voices
Marco Duqueusnoy as Fozzie, Gonzo, Clifford, and Denise
Cécile De Ménibus
Jean-François Kopf as Waldorf
Puppeteers:
Sandrine Furrer
Erwan Courthiaux
Pascal Meunier
Cyril Valade
Françoise Salmon
Crew
Production: Be Aware Tivi
Producer: Sébastien Cauet
Assistant producer: Christian Cathala
Production executives: Pitch Prod
Executive producer: Jerome Francois-Sigrand
Director: Patricia Rimond Des Anges
Direction assistants: Alice Postic, Paul Vuibert
Script continuity: Magali Beauvois
Director of photography: Patrick Noufond
Writers: :Sébastien Cauet, Vincent Aze, Jerome Barou, Jean-Pierre Dannic, Philippe Husson, Philippe Lelouche
Programming: Mylene Ruesca
Coordination: Helena Pecula
Director of art, preparing and decoration: Jerome Francois-Sigrand
Artistic director, puppets: Boris Scheigam
Puppet styling: Janet Knechtel, Florence Elissalde
Charge in production: Yohan Bouchard, Harold Postic
Assistants in production: Stephane Juilla, Antoine Lebihen
Props: Gregoire Steunou
Lighting director: Alain Dretz
Chief in operation: Laurent Siekierka, Yan Benisty, Marc Lenoir, Vincent Poll, Stephanne Rauch, Catherine Ouanson, Bruno Sfredo, Frederic Hemen, Thierry Bourdiec
Sound engineers: Emmanuel David, Marie Benedicte Rolland
Sound assistants: Yoann Verrax, Christine Duport
Post-production: Pitch Prod
Responsible in post-production: Tony Gavioli
Assembly realization: Camille Carpentier
Assemblers: Benjamin Lotollier, Tania Goldenberg
Digitalization: Lise Verhasselt
Sound designer/mixers: Yves Le Tihlec, Xavier Dreyfuss
Assistant: Sebastien Poirel
Creation preparations: Jerome Francois-Sigrand, Benoit Chaslerie, Allasign
Credit creator: Black Office, Joel Carvalho, Alexis Grollior
Music adaptation of theme song: Pascal Jambry
Make-up designers: Yasmine Berahou, Brahim Aouchiche
Decorators: Amelle Clodore, Vincent Rouanet
Construction Decoration: L'Usine a 5 pattes
Average Techniques: STUDIO 107 AMP
Press attache: Elsa Lebrun
Thanks: Elie Semoun
"Rock This Party": S.CONROD / N. GOULBOURN / S.POULET / C.LE FRIAND © WB Music Corp. / Warner Chapel Music / Mighty Bop Cessions / Warner Music LTD
Pow Wow "Le lion est mort ce soir" by Pow Wow
Circlefilm: Proxia Courtage
Production consultants: Martin Baker, Elizabeth Gruninger
Project manager at TF1: Maxime Maton
Assistant manager of the magazines: Nicolas Hellas
Magazine director: Philippe Balland
Management of the Programs of Flow: Philippe Balland, Frederique Micouleau
© The Muppets Studio, LLC.
Community content is available under
CC-BY-SA
unless otherwise noted.