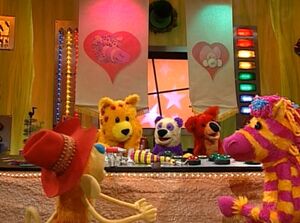 At the DJs' workstation, the DJs' are trying to get rid of a stripe lever on their music station. Edi the Zebra overheard them talking about the lever, but she believed the DJs are talking about her and mocking the way she walks. When Waffle the Cow-Monkey and Edi talk to the DJs about this, the DJs explain that they were talking about the stripe lever and replacing it with a new lever. DJ 3 pulls the lever that brings down a banner of Edi and Waffle to show that the DJs love them.
Songs
Walk the Walk
Moody Moves
Bozark Walkin
Community content is available under
CC-BY-SA
unless otherwise noted.