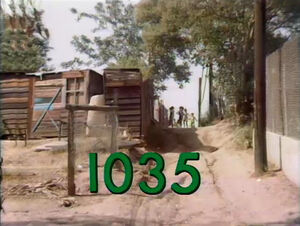 Picture
Segment
Description

SCENE 1
Big Bird wakes up very early in the morning, excited about the arrival of Buffy's new baby, Cody. He visits Buffy and wakes her up, and pretty soon, they're both unable to go back to sleep. They go back to his nest, and Buffy reads Big Bird his favorite story.

Cartoon
A girl tries to lure her cat out from under the chair so she can pick him up.
Artists: The Hubleys
(First: Episode 0187)

Muppets
Ernie & Bert — At the movies, Ernie makes some loud noises while he eats his candy bar and peanuts and drinks his soda. Bert loses his temper and shouts at Ernie to be quiet, at which point the usher enters and throws Bert out.
(First: Episode 0536)

Cartoon
Find the camouflaged parrot.
Voice: Paul Dooley
(First: Episode 0516)

SCENE 2
Buffy finishes reading another bird story to Big Bird (after several others). Big Bird notices that over an hour has already passed by from the fun they've had reading. He then spills his blocks all over the floor so they can make their own miniature Sesame Street.

Cartoon
Do you know what it's like to be scared?
(First: Episode 0547)

Song
Joe Raposo asks the musical question, "Which Comes First, the Chicken or the Egg?"
(First: Episode 0276)

Cartoon
"Pinball Number Count" (#12)
Artist: Jeff Hale
(First: Episode 0985)

Muppets
At night, Grover thinks he hears noises in the dark. When he sees a shadow on the wall, he cowers under the covers - but the shadow turns out to be his Mommy.
(First: Episode 0397)

Cartoon
One of these shoe pairs ...
(First: Episode 0503)




SCENE 3
As Big Bird and Buffy play checkers, Sheldon arrives with Cody. Buffy introduces them to Big Bird, who immediately wants to play with Cody, but Buffy says they need a rest after their long trip from Hawaii. Big Bird feels dejected, but she thanks him for helping her pass the time.

Animation
Sand Q/q
(First: Episode 0623)

Muppets
Ernie & Bert — Ernie asks Bert to play a game where they take turns counting and then saying "Q". Ernie goes first with "1 Q", and Bert follows with "2 Q". The game continues, until Bert gets to "10 Q". "You're welcome, Bert!" Ernie says.
(First: Episode 0440)

Cartoon
Q for Quiet
Artist: John Korty
(First: Episode 0441)

Film
A boy talks his observations and experiences with the rain as he and his father go for a walk in it.
(First: Episode 0149)

Cartoon
"Poverty Q": A figure demonstrates Q words, despite the unruly stem of his letter Q that keeps detaching itself.
(First: Episode 0048)

Film
Sesame Street Animal Films: Sidewinder snake
(First: Episode 0514)

Cartoon
A duck sings about all the reasons why q should be remembered.
(First: Episode 0789)

Muppets
"The Question Song"
(First: Episode 0378)

Cartoon
Q -- that funny looking thing.
(First: Episode 0131)

Cartoon
Children and animals numbered 1-12 race in a marathon. The #9 runner wins.
(First: Episode 0926)

Film
A marching band counts from 1 to 20.
(First: Episode 0504)

Cartoon
Birds appear around the numerals one through twenty as jazz music plays.
Artists: The Hubleys
(First: Episode 0134)

Celebrity
Helen Reddy sings "I Make Up Songs."
(First: Episode 0774)

Cartoon
A cat chases a mouse into a mouse hole. The cat and mouse make music as they hit the wall, until the cat breaks through the mouse hole.
Artist: The Hubleys
(First: Episode 0244)

Muppets
"The King's Picnic"
(First: Episode 0419)

Cartoon
A supermarket worker stacks 12 cans, which keep collapsing every time someone grabs one.
(First: Episode 0782)

SCENE 4
Big Bird wants to play some more, but Buffy is too busy feeding Cody, who can't play all the games Big Bird suggests anyway. Saddened, Big Bird sings "What Can the Baby Say?" (in his head).

Cartoon
A boy looks for the telephone as it rings.
(First: Episode 0684)

Muppets
Ernie has a stack of seven cupcakes that he wants to take a picture of, but Cookie Monster keeps stealing cupcakes (which he calls "cuppycakes").
(First: Episode 0136)

Animation
Counting six red balls
(First: Episode 0278)

Song
"Watch the Dance": A calypso singer points out the body parts of a dancer.
(First: Episode 0654)

Cartoon
Picnic with P foods (carried away by ants)
Artist: Cliff Roberts
(First: Episode 0773)

Cast
Maria, Luis, Bob, and David, dressed as scarecrows, sing about the ankle, shoulder and knee.
(First: Episode 0711)

Cartoon
Pat the Pilot skywrites a letter P with her plane.
Artist: John Korty
(First: Episode 0478)

Cartoon
Dot Bridge #1
(First: Episode 0001)

SCENE 5
Big Bird tries to steer clear of Buffy, Sheldon, and Cody, thinking they're doing something that doesn't involve him. It turns out they're going to the park, and they invite him to come with them. Maria announces the sponsors, and the credits roll.