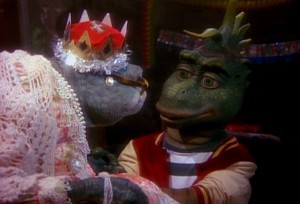 The ancient and solemn dinosaur tradition of flinging their elders off a cliff into a pit of tar is challenged by young Robbie, denying Earl the fulfillment of one of his life's greatest dreams -- tossing Fran's acid-tongued mother, Ethyl, into the abyss.
Supporting Cast
Notes
Tape date: April 17, 1991
This episode was the first to air featuring Ethyl Phillips, though in fact the character's first appearance chronologically appears to be in "Employee of the Month." In that episode, Ethyl arrives for a visit prior to permanently joining the household.
This episode marked Tom Trbovich's Dinosaurs directorial debut. Trbovich would go on to direct 25 of the show's 65 episodes (more than any other director on the series).
Seen on TV
Video releases
Community content is available under
CC-BY-SA
unless otherwise noted.