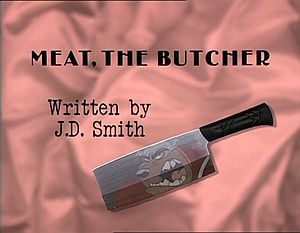 Eliot Shag has been ordered by his boss to animate a story with a lot of violence in it. Unfortunately, this goes against Eliot's personal belief that violence is unnecessary. He wants to do the story his way, without having to resort to violence to make the story good or to get ratings. Unfortunately, Ace agrees with Eliot's boss and not Eliot. Ace is drooling to get his paws on the meanest, biggest, vilest criminal that Eliot can dream up.
Ace convinces Eliot to go with the violence, and has Meat the Butcher unleashed on him. Meat has a mind of his own and quickly takes over the entire story, running completely out of Eliot's control.
This puts Ace into a really tight spot - hanging over a meat grinder as Eliot scrambles to come up with a way to rescue Ace and rid Dog City of Meat the menace.
Eliot decides that he can't do the story any way but on his own terms because he abhors violence, so he paints Ace into some funny situations. In the end Eliot's boss thinks the story is the best he's ever done and Eliot is glad he didn't have to resort to using violence.
Community content is available under
CC-BY-SA
unless otherwise noted.