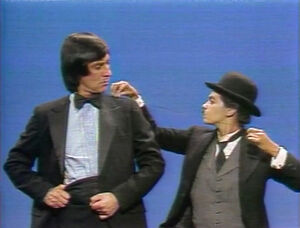 Picture
Segment
Description

SCENE 1
Big Bird, Gordon, Olivia and Luis wait for Hooper's Store to open. Mr. Hooper arrives blindly, because he couldn't find his glasses. They search for his glasses at the bus stop, the laundromat and the drugstore. Meanwhile, Mr. Snuffleupagus finds the glasses on the steps of 123, and gives them back to Mr. Hooper, who doesn't know who gave them back – "but I've heard that voice before…"




Muppets
Ernie & Bert — Ernie and Bert have difficulty scratching their backs, so both help each other scratch their back. While Ernie's itch takes a little too long to scratch, he introduces a film called "Everybody Scratch." After the film, Ernie notices that Bert has stopped scratching his back; Beautiful Day Monster is.
(First: Episode 0012)

Cartoon
A man slips on his daughter's skate, and she points out that it makes him feel angry.
(First: Episode 0542)

Film
A girl narrates a film of her grandpa putting a horseshoe on their horse.
(First: Episode 0505)

Cartoon
Jasper thinks that he has lost his elbow, but Julius shows him his elbow by bending his arm.
Artist: Cliff Roberts
(First: Episode 0410)

Muppets
Grover and George sing "Two G Sounds."
(First: Episode 0358)

Cartoon
Kids guess what two circles drawn onscreen will become. They turn out to be the eye of a friendly monster.
(First: Episode 0248)

Film
Comparing a boy's skin to animals' fur, feathers, skin, and other coverings.
Music: Joe Raposo
(First: Episode 0108)

Cartoon
"Candy Man"
Artist: Bud Luckey
(First: Episode 0359)

Insert
Mr. Hooper, Luis, Maria, David and Bob all throw a small amount of litter on the ground, adding to the street's filth. When a voice (Jerry Nelson) asks "Who made this mess?" each one of them denies that it was them, saying they only dropped a small amount of garbage on the street. Soon, however, they realize that they each contributed to the mess in one way or another and pick up what they dropped. The voice then tells them to put the trash in a trash can instead of on the ground.
(First: Episode 0485)

Muppets
Ernie wants to borrow Herbert Birdsfoot's vacuum cleaner, but he worries about how Herbert will respond. Maybe Herbert's taking a bath, and he'll be so angry at Ernie for interrupting him that he'll tell everyone to never loan Ernie anything ever again!
(First: Episode 0181)

Cartoon
A wizard walks through a door. A boy in pajamas tries to imitate him without success.

Cast
Maria as Chaplin notices a short thread on Luis' tuxedo, which becomes long as he pulls it, unraveling Luis's trousers!

Muppets
The Count extinguishes electric candles by counting them with his finger. As he heads up the stairs for bed, he steps on Fatatita. He also tells his wolf Yuba to run and play with his friends.
(First: Episode 0545)

Film
A man makes a shadow puppet of a horse.
(First: Episode 0908)

Cartoon
G is for Glue
Artists: The Hubleys
(First: Episode 0279)

Muppets
Bob sings "The People in Your Neighborhood" with the Anything Muppets, who portray the Florist and Electrician.
(First: Episode 0901)

Cartoon
"The Noble Ostrich", a segment about the day-to-day activities of ostriches. Includes an animated appearance by Big Bird.
Artist: Bruce Cayard
(First: Episode 0998)

Cartoon
The profile of a man's face morphs into different faces to the sounds of a Moog synthesizer.
Artist: Etienne Delessert
(First: Episode 0642)

Cast
Luis, dressed as a magician, demonstrates addition by conjuring up the correct numeral when David and Maria arrive. As each person leaves, Luis switches the numerals to present subtraction.
(First: Episode 0485)

Muppets
Sesame Street News Flash: Jack Be Nimble can't figure out how to jump over the candlestick.
(First: Episode 0723)

Film
A gymnast demonstrates over and under.
(First: Episode 0517)

Muppets
Guy Smiley hosts "What Is it?," with panelists Grover, Biff and Prairie Dawn. They must guess what mystery object Little Sammy Pottle has brought to the studio (a red rubber ball).

Muppets
Lefty the Salesman wants to sell an 8 to Ernie, who ran out of money buying some 9s. Ernie then offers to sell Lefty his 9s.
(First: Episode 0079)

Film
Things that begin with G
(First: Episode 0357)

Film
A man makes a shadow puppet of a dog.
(First: Episode 0601)

Cartoon
The word entrada tries to run through a wall, then runs through the entrance.
(First: Episode 0939)

SCENE 2
Olivia and the kids play a "Three of These Things" game with three hands and a foot.

Cartoon
A horse is drawn as kids guess what it is.
(First: Episode 0377)

Cast / Celebrity
Judy Collins sings "The Sun Shines" with Gordon, Susan, Bob, Maria, Mr. Hooper and the kids.
(First: Episode 0993)

Cartoon
A woodpecker drills through a tree to demonstrate entrada and salida.
(First: Episode 0808)

Cartoon
A kitten is knittin' a kerchief, a kite, and a polka-dot mitten.
(First: Episode 0282)

Film
City alphabet (Joe Raposo instrumental with kid voiceover)
(First: Episode 0132)

Cartoon
K is for kiss.
Animation: John and Faith Hubley
(First: Episode 0131)

SCENE 3
Big Bird and his little friend Poco Loco talk about short and tall, but Poco only repeats what Big Bird says without grasping the concept.

Film
George puts his head through a barrel stave. He also goes through the barn.
(First: Episode 0299)

SCENE 4
The sponsors are announced.