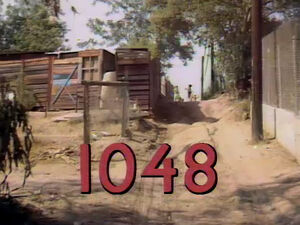 Picture
Segment
Description





SCENE 1
Bert sits in Hooper's Store forlornly reading a postcard and orders a luncheon meat sandwich (not too spicy and hold everything). Mr. Hooper complies and finishes setting out some saucers when Susan comes in and asks Bert about his postcard. Bert explains that it's from Ernie; he's staying with his aunt and uncle who have a cabin on Lake Winnewonga. With Bert's permission, Mr. Hooper reads the postcard out loud which is filled with all the activities Ernie's been doing with his "old buddy", Tom.

Susan notices how depressingly Bert is staring at his sandwich, and relates to him a story about the time Gordon went away on a fishing trip and left her home feeling like she was missing out on something (even though she admits to not caring about fishing). Bert says he feels the same way: left out, lonely, and resentful of the fact that Ernie's only been gone three days and he's already got a new "old buddy".

Susan reveals that her experience with time away from her spouse eventually made her realize that there were all kinds of things she could do on her own without anyone else around. So she spent a couple of days taking out all her photography equipment (including setting up a number of tripods all over the house), and occupied herself with taking pictures and developing them for two solid days. Bert cheers up at the opportunity to polish up his paper clip collection, which is hard to do with Ernie around. He's so excited that he heads home to start digging into his hobby, leaving his sandwich behind for Susan and Mr. Hooper to share.

Cartoon
A boy demonstrates why his dog's name is Happy.
(First: Episode 0537)

Film
A film of butterflies
Music: Joe Raposo
(First: Episode 0406)

SCENE 2
Ernie returns home from Camp Winnewonga, to Bert's surprise. Ernie shows Bert all the things he brought back from camp, such as some rocks and a paper clip.

Cartoon
The Typewriter: B for Ball
(First: Episode 0829)

Cast
Susan, Bob, and Maria give a lesson on addition and subtraction.
(First: Episode 0633)

Cartoon
A little girl tries to figure out why a dog is crying.
(First: Episode 0862)

Video
Scanimate kids intro
(First: Episode 0798)

SCENE 3
Luis gives a demonstration of what some tools do on the workbench in front of the Fix-It Shop.

Cartoon
"Ten Turtles"
Artist: Bud Luckey
(First: Episode 0425)

Film
At a fiesta, a group of kids try to break through a piñata.
(First: Episode 0620)

Cartoon
A postal worker tells the viewer what the post office is good for.
Artist: Cliff Roberts
(First: Episode 0783)

Muppets
Ernie & Bert — During the rain, Ernie stands under an umbrella explaining how the weather makes him feel happy, sad, and mad. Bert has been trying to get under the umbrella with him, telling Ernie that all it has made him feel is wet. Ernie wonders why he doesn't have his umbrella; Bert explains that it's because Ernie is using it. Ernie thanks him and leaves Bert sneezing in the rain.
(First: Episode 0137)

Cartoon
Letter I (Beep Beep)
(First: Episode 0427)

Cast/Song
Olivia sings "Happy" as she passes by her neighbors.

Cartoon
Jack waters a B, which grows into a B-stalk. He climbs it and travels to the Land of B.
(First: Episode 0277)

Muppets
Harvey Kneeslapper asks a man, "Do you know where I wanna be?" The man says he doesn't know. Harvey says, "I wanna B -- right here!" and slaps a letter B on the man's sweater. Harvey runs off, laughing.
(First: Episode 0277)

Film
Squares are shown in close-up.
(First: Episode 0420)

Film
A kid marching band forms a triangle.
(First: Episode 0531)

Transition
Bridge #4 - 4 Corner Bridge B
(First: Episode 0282)

Muppets
A greaser sings about his relationship that was almost ruined by a "One Way" sign.
(First: Episode 0973)

Cartoon
A guru counts to twenty. (Spanish version)
(First: Episode 0276)

Cast
Maria as Chaplin tries walking against a stream of foot traffic following a sign that reads ONE WAY.

Animation
Children's voiceovers (in English and Spanish) dictate how to draw a male's body.
(First: Episode 0528)

Muppets
A disconsolate Ernie tells Oscar the Grouch that he's lost his Rubber Duckie. Oscar tries to calm Ernie down and says that he'll buy Ernie another one. Ernie says he can't - Rubber Duckie is special and unique. He tells Oscar that Rubber Duckie is "cute, adorable, sweet, cuddly, and makes a wonderful sound." Oscar tells Ernie that he'll bring him a new one.
(First: Episode 0139)

Cartoon
I - ice cream.
(First: Episode 0033)

Film
A wheel rolls away from a junkyard. A boy captures it to complete his wagon. (Spanish dub)
(EKA: Episode 0530)

Film
Photographic collage demonstration of ALL, MOST, SOME and NONE of an apple.
Artist: Frank and Caroline Mouris
(First: Episode 0979)

Muppets
Oscar comes back with a new Duckie, but this one is different - it's a Grouch duckie. They realize that they have different ideas of what is cute and ugly. Ernie thanks Oscar for trying to help - and when he sits down, he hears a familiar squeak. He digs through the stuff on the floor, and finds his Rubber Duckie! Ernie and Oscar argue over which of their toys is the cutest.
(First: Episode 0139)

Cartoon
Two monkeys argue over what to watch on TV, growing bigger the angrier they get.
(First: Episode 0762)

Celebrity
Edgar Kendricks sings a song about body parts.
(First: Episode 0897)

Cartoon
Joe's Lap (limerick)
(First: Episode 0617)

Film
Sesame Street Animal Films: Elk feeding.
Music: Robert Dennis
(First: Episode 0793)

Cartoon
With one mighty blow of his baseball bat, a boy knocks several B items (including a basket, bandit, and ball) off of a wall.
Voice: Casey Kasem
(First: Episode 0237)

Film
"Ten Song (Song of Ten)" (revised version)
(First: Episode 0021)

Transition
Bridge #5 - 4 Corner Bridge C
(First: Episode 0282)

Cartoon
Mr. Tweak can't sleep because his neighbor above snores, and his neighbor below sneezes.
Artist: Abe Levitow
(First: Episode 0528)




SCENE 4
Grover demonstrates what it means to be above and below the awning on Hooper's Store, running up and down the stairs several times until he's out of breath. Susan shows him how he can do the same thing by placing her hand above and below a magazine. Grover wishes he had told her that sooner... or not at all. He faints from exhaustion.

Animation
Sand B/b
(First: Episode 0627)

Animation
A roof finds its way to the top of a house.
(First: Episode 0505)

SCENE 5
Sitting together in the yard, Grover thanks Susan for showing him her superior method of demonstrating above and below. In turn, he wishes to show her far and near, beginning with pointing out that he is currently near. He asks her if she can see the lamp post about two blocks away, and begins running toward it as she begins to protest. Luis announces the sponsors.
Community content is available under
CC-BY-SA
unless otherwise noted.