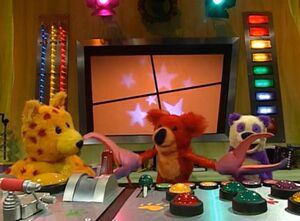 Waffle shows off his world largest boot collection, but gets in Edi's way. Edi tells him to go sideways like her friend, Carol, who is a crab. After Edi's song, Waffle declares he is now going to walk sideways only. After Bozark's dance, Waffle learns to move in different ways besides going sideways. Then he shows Edi his boot collection.
At the DJs' workstation, the DJ 2 wears gloves that look like giant crab claws and starts pinching the other DJs. After much pinching, DJ 1 and DJ 3 takes the giant crab claws off from DJ 2 and starts pinching him.
Songs
Crab Conga Line
Crab It!
Bozark Crabbin
Community content is available under
CC-BY-SA
unless otherwise noted.