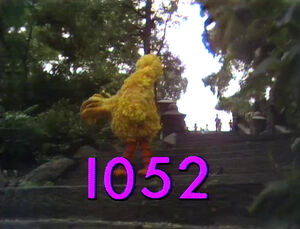 Picture
Segment
Description

Muppets
Sesame Street News Flash: Kermit is interviewing Cinderella and Prince Charming, who are dancing at the ball. After Cinderella leaves, she leaves one glass slipper behind. The prince wants to find Cinderella...so he can have the other glass slipper.
(First: Episode 0516)

Film
Baby turtles swim around.
Music: Joe Raposo
(First: Episode 0294)
Cartoon
Pinball Number Count #7
Artist: Jeff Hale
(First: Episode 0989)

Celebrity
Carol Burnett demonstrates "what you can do with your nose."
(First: Episode 0131)

Film
Joe Raposo: Wet & Dry (Falls in pool; kid VO's)
(First: Episode 0467)

Cartoon
A troll draws different faces on herself in front of a mirror.
(First: Episode 0800)

Cast
At City Island, Maria and Bob ask Oscar to take their photo. He tells them to step back further and further until they fall off the dock.
(First: Episode 0932)

Muppets
A Japanese storyteller tells "The Mystery of the Four Dragons". An aged emperor offers the throne to his son if he can find four hidden dragons in the room.
(First: Episode 0299)

Cartoon
Miss Fortune makes guesses about a dog.
Artist: Cliff Roberts
(First: Episode 0483)

Muppets
Muppet & Kid Moment — Michelle teaches Herry Monster how to say the name of several body parts in Spanish.

Cartoon
Children describe how to draw an elephant.
(First: Episode 0052)

Muppets
The Count counts seven flowers, and then explains that he loves to count flowers because then he gets to count sneezes.
(First: Episode 0433)

Cartoon
Jazz #7
(First: Episode 0136)

Film / Animation
Part 1: A boy declares he wants to build a building. He and an adult voiceover describe how the building will be made, intercut with stop-motion animation and live-action footage. The two then wait for the foundational cement to dry...
(First: Episode 0142)

Cartoon
The Typewriter: Y for Yo-Yo
(First: Episode 0769)

Muppets
Muppet & Kid Moment — Grover and John-John count a penny.
(First: Episode 0438)

Cartoon
A man demonstrates Spanish words that start with the letter Y.
(First: Episode 0470)

Film / Animation
Part two: With the cement dried, the boy's building is brought to completion.
(First: Episode 0142)

Cast
Maria, Luis, Gordon and three kids all have umbrellas with different patterns, which a voiceover uses to put them into different groups.
(First: Episode 0821)

Cartoon
The Story of Cowboy X, with the voices of Jean Shepherd
(First: Episode 0325)

Muppets
Ernie & Bert — Everything is getting wet, because it's raining and a window is stuck open. But Ernie explains that he can't fix it now because he'd get wet in all that rain. When the rain stops, he explains to Bert that since it's not raining anymore, nothing's getting wet, and there's no reason to fix it.
(First: Episode 0344)




SCENE 1
All seems normal on the street, when Big Bird rushes out of his nest area with various sheets of paper. He announces to everyone that he's written his very own variety show ("Like Donny and Marie, Sonny and Cher, and the Captain and Kangaroo."). His show involves everyone on the block and he hands out the sheets of music. Everyone launches into the big opening number. Maria asks what comes next, but Big Bird wasn't aware he needed anything more. A cow thinks she can do her impressions of Oscar, Kermit and Cookie Monster, but everyone shooes her away.




SCENE 1 cont'd
The Count appears with a number of his own. He transforms the arbor in a gypsy campfire scene as the Count (playing violin) leads everyone in doing "The Transylvania Polka." Once the song ends, the wagon and everything disappears. "For some reason they always seem to disappear at sunrise. I never understood that," says the Count. Luis thinks that now should come a nice, quiet piece. The cow thinks she can do a pantomime act (toppling over as a wilting lily), when...

SCENE 1 cont'd
...BLAM! Herry Monster bursts through the fence with a gentle song. Two monsters (Harvey and Maurice) back him up as he croons about that "Furry Blue Mommy of Mine."

SCENE 1 cont'd
Everyone turns their attention to the stoop of 123 Sesame Street, where Olivia, Susan and Maria sing the "Swingin' Alphabet."




SCENE 1 cont'd
Big Bird wonders what will come next, when Mr. Hooper hands him an introduction. Big Bird reads the dignified intro for Mr. Hooper, who does a brief rendition of "My Dog Has Fleas." Maria then introduces a song about the Three Musketeers, though Big Bird thinks she means the Mouseketeers at first.

SCENE 1 cont'd
Bob, Luis and Gordon pose as the Three Musketeers as they sing a song about themselves.




SCENE 1 cont'd
David thinks they now need a really big finish for the show, complete with flashing lights, flashy costumes and everyone dancing. Big Bird doesn't have anything prepared, when David rips off his street clothes, revealing a flashy outfit. He hops onstage and leads everyone in "Listen to the Music." Everyone gathers to dance, even Mr. Snuffleupagus (unnoticed by all but Big Bird).

SCENE 1 cont'd
The street is stripped of all the fancy sets and lights as the cast gathers for a finale reprise of "Big Bird's Totally Amateur Show." Mr. Hooper announces the sponsors.