Sesame Street
Plot
Oscar's pet fly gets a job as a bus driver
Air date
May 27, 1977
(season finale)
Season
Season 8 (1976-1977)
Sponsors
I, M, 10

This episode guide has been compiled from materials at the CTW Archives.

ⓘ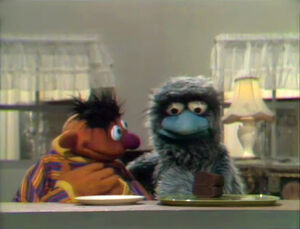 Big Bird wonders if a child is falling apart because his baby tooth has just fallen out.
Oscar tries to figure out who wrote "M loves O" on a paper heart he found.
Ernie & Bert — Ernie eats one of the two pieces of chocolate cake that Bert was saving for their dessert. Bert sees Ernie holding a fork in one hand and a napkin with some chocolate on it in the other--and in front of him is a plate full of chocolate-cake crumbs. When Bert accuses Ernie of eating the cake, Ernie tells Bert that a monster came in, ate Bert's cake, and framed Ernie. Bert doesn't believe Ernie's lie. But when Bert leaves the room, Beautiful Day Monster comes in and does exactly what Ernie told Bert happened to the first piece. Ernie tries to explain, but Bert says, "I don't want to talk about it." (First: Episode 0119)
Cartoon: A boy tries to teach his sister about "up" and "down" by running her up and down a flight of stairs. After trying it several times, the girl explains what she's learned: "Down is easier!" (EKA: Episode 0526)
Olivia sorts by function using pictures.
Cartoon: An M uses a mud puddle to show the letter M, and gets in trouble with another M word--his mother. (First: Episode 0073)