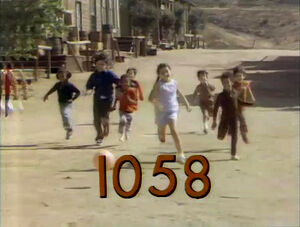 Picture
Segment
Description




SCENE 1
Luis, Susan and Gordon hear disco music coming from inside Hooper's Store. They walk in, and find Mr. Hooper dressed like the young, hip crowd of today (wearing a wig, jeans, and a Farrah Fawcett t-shirt). They ask him to turn down the loud music, and he explains that he's trying to keep up with the times, since he's so old now. They tell him they like him just the way he is, and he admits that he agrees with them. He goes home to change his clothes, riding a motorcycle!

Cartoon
OPEN -- "Would you mind closing our OPEN?"
(First: Episode 0512)

Muppets
Grover the Assistant: Herbert Birdsfoot arranges three blocks for Grover to count. No matter how the blocks are arranged, they still add up to three. Herbert asks Grover to count some oranges as well. Grover confesses that he's good at counting blocks -- but he doesn't know how to count oranges!
(First: Episode 0192)

Cartoon
A little girl imagines what would happen if she dropped her bag of ping pong balls.
(First: Episode 0583)

Film
Sesame Street Animal Films: Crocodile
Music: Joe Raposo
(First: Episode 0410)

Cartoon
A ship captain orders the numbers 1-20 into a boat - which promptly sinks.
Artist: Harvey Kurtzman
(First: Episode 0614)

Muppets
Muppet & Kid Moment — Herry and Laurie identify different shapes.
(First: Episode 0881)

Cartoon
Jasper and Julius: Apple.
(First: Episode 0485)

Video
Scanimate kids intro
(First: Episode 0798)




SCENE 2
Gordon sees an "Artists at Work" sign on the doors to Big Bird's nest. Inside, Big Bird supervises as as the kids decorate draw pictures he can hang up around the place. As Gordon checks out everyone's drawings, Big Bird shows off his own piece - a semi-circle on the bottom of a rectangle, which he claims is Gordon's bald head passing by the window.

Cartoon
Kids hear an L poem.
(First: Episode 0198)

Film
At a fiesta, a group of kids try to break through a piñata.
(First: Episode 0619)

Animation
Sand L/l
(First: Episode 0632)

Muppets
Cookie Monster stars in "The Ballad of Casey McPhee."
(First: Episode 0516)

Cartoon
Speech Balloon: L for Light
(First: Episode 0147)

Cast
Linda stars in the Theater Without Words production of "The Batter and the Ball."
(First: Episode 1031)

Cartoon
L es para luz
(First: Episode 0373)

Muppets
Ernie and Bert sing "La, La, La."
(First: Episode 0321)

Cartoon
The more a man inflates a balloon with a tire pump, the less room he has.
Artist: Bob Kurtz
(First: Episode 0294)

Song
"Paying Attention Song" (Charlie Tyson)
(First: Episode 0934)

Cartoon
Pinball Number Count #8
(First: Episode 0998)

Celebrity
Whitman Mayo recites the alphabet.
(First: Episode 0866)

Cartoon
The Dog & The Bone
(First: Episode 0772)

SCENE 3
Big Bird pretends to be a teacher to a "class" of stuffed animals. Susan and Gordon overhear him, and assume he's talking to Mr. Snuffleupagus. Big Bird explains that Snuffy isn't here today, and assures them that he knows the difference between real and imaginary: his dolls can't really talk, but he's imagining that they can.

Animation
A kid's father tells him what can be built out of the wheels and things he found.
(First: Episode 0268)

Muppets
Two boys notice that the number 8 looks the same right side up and upside down.
(First: Episode 0282)

Animation
A kid's father tells him what can be built out of the wheels and things he found. (Spanish version)
(First: Episode 0277)

Film
Sesame Street Animal Films: Ostriches walk and run. (piano music)
(First: Episode 0339)

Cartoon
A man demonstrates how letters sound by playing them as instruments.
(First: Episode 0964)

Muppets
Sesame Street News Flash: Don Music tries to write "Mary Had a Little Lamb", but he can't come up with a word that rhymes with "snow". Kermit suggests that Don try another angle, which leads to Don writing the hit song "Mary Had a Bicycle." Don sings the song, with back-up vocals from the Monotones.
(First: Episode 0698)

Cartoon
A hammer and chisel cooperate to carve a triangle out of wood, which a pencil uses to draw some.
(First: Episode 0932)

Film
Various objects become OPEN.
(First: Episode 0442)

Cartoon
"All right, now that you've eaten everything in sight, would you mind telling me what you plan to have for dessert?"
(First: Episode 0006)

Muppets
Oscar the Grouch sings "Swamp Mushy Muddy."
(First: Episode 1038)

Cartoon
A flea sets up camp on a dog.
Artist: Bruce Cayard
(First: Episode 1004)

Muppets
Ernie & Bert — Ernie stacks cups and saucers in order to count them, making Bert quite nervous. Luckily, they're glued together.
(First: Episode 0586)

Cartoon
A man gives away the letter U for free.
(First: Episode 0202)

Film
A girl meets a blind woman who has a seeing-eye dog.
(First: Episode 0952)

Cast
Linda teaches a kid how to sign the word "OPEN."

Cartoon
Typewriter: U for Umbrella
(First: Episode 0808)

Film
The Mad Painter #8
(First: Episode 0326)

Cartoon
A man takes advantage of his television appearance to display his giant ME sign.
(First: Episode 0781)

SCENE 4
Luis is worried about someone like Mr. Hooper riding a dangerous motorcycle, but Mr. Hooper assures him that he has every precaution in place. He even has some pals to ride with him - Willy and Mr. Macintosh. The three ride off as Big Bird announces the sponsors.
Community content is available under
CC-BY-SA
unless otherwise noted.