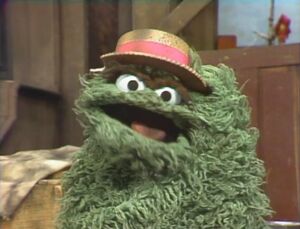 Mr. Hooper tries to stay young. He tries wearing a long-haired wig and riding a motorcycle, which Bob advises him not to do.
A girl anticipates what might might happen if she drops a ball.
Grover the Assistant: Herbert Birdsfoot arranges three blocks for Grover to count. No matter how the blocks are arranged, they still add up to three. Herbert asks Grover to count some oranges as well. Grover confesses that he's good at counting blocks -- but he doesn't know how to count oranges! (EKA: Episode 0309)
Film: At a fiesta, a group of kids try to break through a piñata. (EKA: Episode 0678)
As a teacher tells a story, the students imagine what happens. (EKA: Episode 0934)
Cartoon: After a kid sees a jumble of shapes, he tells his father about it. The father finds a way to turn the stuff into a cart and tells his son, who remembers to assemble it. (EKA: Episode 0231)
Cartoon: A flea sets up camp on a dog.
Film: A girl meets a blind woman who has a seeing-eye dog. (EKA: Episode 0994)