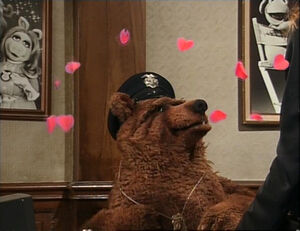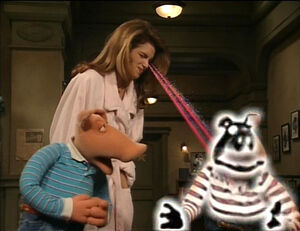 When Cindy Crawford arrives at the KMUP studios, security guard Bobo the Bear develops an instant crush on her and, with a little push from Cupid's arrow, becomes hopelessly smitten. One "60s retro montage fantasy" (and Micky Dolenz cameo) later, Bobo decides to pursue his love.
Rizzo tries to coach him, Cyrano de Bergerac-style, but Bobo gets slapped when he mistakenly asks to play with Cindy's balloons. Eventually, though, Bobo gains the courage to tell Cindy that he loves her in his own words and interrupts her duet with Kermit to confess his love.
Elsewhere, Cupid accidentally shoots Sal Minella with one of his arrows, and the little monkey develops unusual feelings for his pal Johnny Fiama. But it's nothing that a sack full of something heavy dropped on his head won't reverse.
Songs/Sketches
Notes
The Kermit the Frog Club is a parody of The Mickey Mouse Club. The sketch reveals that the fourteen-year old, brace-faced Cindy got her big break as a Frogketeer, back when she used her real name, Cinderella Crawfordopolis.
The "Porcupine Hot-Air Balloon Race" segment only appears in the US version of the episode.
The newspaper that Bobo reads at the beginning of this episode has an advertisement for Muppet Treasure Island.
Cast
Muppets:
Clifford, Bobo the Bear, Rizzo the Rat, Johnny Fiama, Sal Minella, Cupid, Kermit the Frog, Statler and Waldorf, Sam the Eagle, Andy and Randy Pig, David Hoggselhoff, Spamela Hamderson, Nigel, A. Ligator, Heart-Shaped Butterflies, Bears, Rats, Swiss Cheese,

Cheese

, Clueless Morgan, Polly Lobster, Seymour, Frogketeers: (Jennifer, Newt, Robbie, M! D Bolo, L. Ron, Toshiro, and Stu)
Background Muppets:
Audience Muppets:
Performers