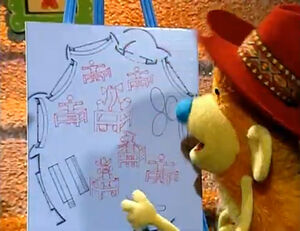 Edi is tired of doing everything with Waffle and wants some personal space. So Waffle creates a map of the Jam Room so he can plan out the personal spaces between everyone. His plan is to have each personal space with an imaginary fence around the person with an alarm on it. However, Edi tells Waffle that personal space is not visible and it's not always in one place. Also, personal space changes its size depending on the person's mood. Waffle gets confused after a while not knowing if Edi wants to be near him or when she needs some time away from him. After Bozark's dance, Waffle learns that personal space is everywhere and you don't have to crowd someone to be closed to them.
Songs
Space to Space
Bozark Buzzin'
Video releases
Community content is available under
CC-BY-SA
unless otherwise noted.