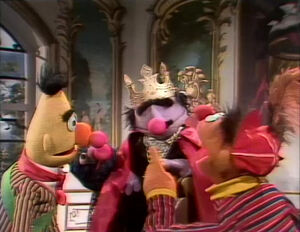 An Anything Muppet boy plays hide-and-seek with three letter Zs, who blend into his porch.
Cartoon: A supermarket worker stacks 12 cans, which keep collapsing every time someone grabs one. (EKA: Episode 0947)
Ernie & Bert — Ernie is painting a portrait of Bert, but paints Bert with curly hair, glasses and a beard. When Bert gets angry about this, Ernie takes him behind the easel and puts curly hair, glasses and a beard on Bert. (EKA: Episode 0683)
Film: Children make a wagon
Maria tells the story of "The King's Nose". King Marvin the Magnificent (The Amazing Mumford) is agreed by everyone in the kingdom to be truly magnificent. One day, a young boy named Bruce (Ernie) decides to throw his pink rubber ball as far as he can. The ball goes through the palace window, hits the King on the nose, and sticks there. Everyone copies the King by placing a pink rubber ball on his own nose... except Bruce, who comes into the palace to look for his own ball. Bruce says how silly everyone looks, including the King, who agrees when he sees himself in a mirror. Once Bruce takes the ball off the King's nose, the others take the balls off of their own noses. The King thanks Bruce for pointing out how silly everyone looked, and he gives Bruce back his ball, plus an extra one. He gives the remaining balls to his daughter, Princess Emily (Cookie Monster), who eats them. (First: Episode 0537)
Susan convinces Big Bird to try an apple for the first time. After trying one and liking it, Big Bird ends up eating all of Susan's apple slices. He offers his birdseed to Susan, who is skeptical of what it tastes like.
Football player Joe Namath passes on the count of three (in Spanish). In another segment, he passes on the count of four (in Spanish).
Cartoon: Little girl and cat (she imagines role reversal) (EKA: Episode 0815)
Lefty sells Ernie an invisible ice cream cone; Ernie pays for it with an invisible nickel. (EKA: Episode 0867)