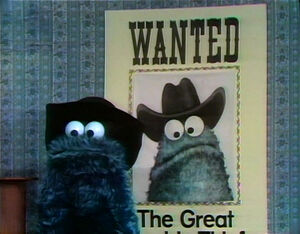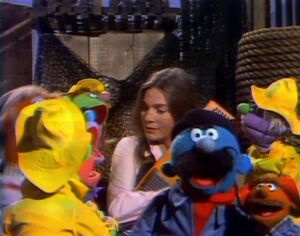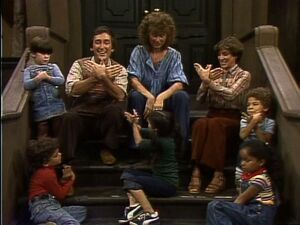 Children try to guess what Linda is saying in sign language.
Four cowboys put up a Wanted poster for "the Great Cookie Thief", who's been stealing cookies from all the bakeries in these here parts. Cookie Monster is standing in front of the poster, and the others suspect that he's the Great Cookie Thief -- he has the same googly eyes, the same blue fur, and the same Western hat. They confront Cookie Monster, but he denies the charge: "Not have same mustache!" He shouts, "Look over there!" -- and while they're distracted, he draws a mustache on the poster. They apologize -- but then Cookie Monster takes off his hat, and cookies fall out. The Great Cookie Thief makes his escape. (First: Episode 0276)
Linda signs the word "fish" for the kids to guess.
Cookie Monster and Ernie: Ernie has four apples, and wants to draw the number 4, showing that he has four apples. However, Cookie Monster wants to eat an apple, so Ernie crosses out the 4 and draws a 3. Then Cookie Monster decides not to eat the apple, causing Ernie to have to cross out the 4 again and draw another 3, over and over again. (First: Episode 0140)
Bob and Linda admit to having made a mistake.
Animation: Facial features appear on an orange, who sings from Carmen. (First: Episode 0277)
Two men hammer a stake into a hole.