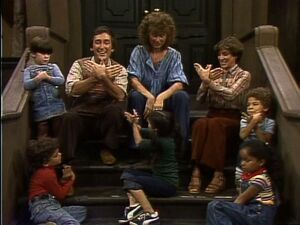 Picture
Segment
Description

SCENE 1
Maria introduces a guessing game with Linda and Timi, who sign things and the kids guess what the signs mean. Big Bird interjects with immediate and incorrect guesses. He does, surprisingly, correctly guess the sign for tree - "I lived in a tree; my mommy-bird taught me that one."

Cartoon
B is for bubbles, bubbles and more bubbles. And Bosco, who is taking a bath.
(First: Episode 0355)

Muppets
Ernie & Bert — Bert thinks that Ernie has eaten his cookies, but it turns out that Cookie Monster (dressed as Ernie) ate the cookies.
(First: Episode 0158)

Cartoon
At the beach, the Bee Bee and the Barker family greet each other while saying their names that begin with the letter B.
Artist: Bruce Cayard
(First: Episode 0627)

Film
Kids narrate a film about where you get ice cream: from the cow, to the factory, to the ice cream shoppe.
(First: Episode 0168)

Animation
Sand B/b
(First: Episode 0627)

Muppets
Kermit's Lectures: Kermit talks about making the B sound, with much detail. When Beautiful Day Monster walks by, Kermit goes over the lesson again. The monster does the noise perfectly, but his "BAH!" scares Kermit away, and fogs up the screen.
(First: Episode 0068)

Cartoon
Passengers on a crowded subway illustrate between.
(First: Episode 0795)

Cast
"Dandy David" adds flowers and flower pots.
(First: Episode 0454)

Cartoon
A pirate has his mate dig for treasure, which is buried between two trees. The mate doesn't know what between means. He finally gets the message, but a parrot makes off with the treasure.
(First: Episode 0779)

Muppets
Kermit's Lectures: Kermit attempts to demonstrate between by standing between two poles, which are actually mops held by Grover and Herry.
(First: Episode 0283)

Cartoon
With one mighty blow of his baseball bat, a boy knocks several B items (including a basket, bandit, and ball) off of a wall.
Voice: Casey Kasem
(First: Episode 0237)

Song
"Cow Dog Song"
(First: Episode 0783)

SCENE 2
Bob, Linda and Timi show some kids how to say "butterfly" in sign language. They sing a song about it.

Cartoon
The Story of Cowboy X, with the voices of Jean Shepherd
(First: Episode 0325)

Muppets
Little Jerry and the Monotones sing "Danger."
(First: Episode 0704)

Cartoon
A baby sees a "danger" sign, which points to several dangerous images.
(First: Episode 0933)

SCENE 3
Timi and Linda now teach the kids the sign for "fish."

Film
Fish swim around.
Music: Joe Raposo
(First: Episode 0284)

Cartoon
Brand X
(First: Episode 0299)

Muppets
An Anything Muppet family arranges themselves in different ways.
(First: Episode 0275)

Cartoon
Miss Fortune makes guesses about a dog.
Artist: Cliff Roberts
(First: Episode 0483)

Song
"Three is My Favorite Number"
(First: Episode 0429)

Cartoon
Donnie Budd sings about three trios of animals who live on a fat lady's lap.
Artist: Bud Luckey
(First: Episode 0299)

Muppets
Ernie has four apples, and wants to draw the number 4, showing that he has four apples. However, Cookie Monster wants to eat an apple, so Ernie crosses out the 4 and draws a 3. Then Cookie Monster decides not to eat the apple, causing Ernie to have to cross out the 4 again and draw another 3, over and over again.
(First: Episode 0140)

Cartoon
A boy tries to count to twenty while playing with a paddleball, but gets interrupted by a bird.
(First: Episode 0152)

Film
Kids count ten buses as they drive by.
Music: Joe Raposo
(First: Episode 0406)

Cartoon
I Thought a Thought ... about small things. A man thinks about small things, and lists them. A sea monster thinks it is small, especially when compared to its father!
Artist: Cliff Roberts
(First: Episode 0241)

Muppets
Three Anything Muppets (including Farley) wait for a bus at a bus stop. To their surprise, the bus is very small, and two small Muppets get off of it.
(First: Episode 0189)

Cartoon
Three men in a horse costume want three cups of coffee.
(First: Episode 0473)

SCENE 4
Timi mediates a fight between Bob and Linda, who are upset because they believe the other stood them up. They made plans to meet at the drug store and come to realize they were both at different stores. They make up, but the two become upset with Timi now after she admits to finding their situation humorous.

Animation
An orange pops out of a basket of fruits and gets "made up" as the face of Carmen, the role in the opera of the same name. While singing "Habanera," the famed aria from the opera, Carmen loses her "face" and can't resume singing until the wig returns.
(First: Episode 0277)

Muppets / Celebrity
Judy Collins sings "The Fisherman Song" with several Anything Muppets.
(First: Episode 0796)

Cartoon
Two men hammer a stake into a hole.
(First: Episode 0785)

Muppets
Muppet & Kid Moment — Ernie, Bert, and Shola illustrate "between".
(First: Episode 0542)

Cartoon
A top-hatted man tries to show a girl how many uses a box has, but she prefers kicking it.
(First: Episode 0763)

Muppets
The letter S joins U and N to make the word SUN. Some Anything Muppets appear in beach gear to bask in the sun.
(First: Episode 0453)

Cartoon
Dot Bridge #1
(First: Episode 0001)

SCENE 5
Timi and Linda now show everyone the sign for "bird," in which the fingers imitate a bird's beak. Big Bird makes the sign without even using his hands (by using his own beak).
Community content is available under
CC-BY-SA
unless otherwise noted.