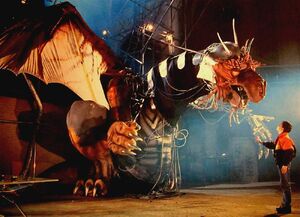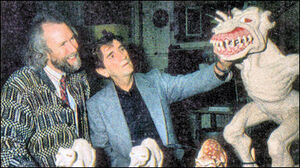 Teenage Matt Banting wants to work with a famous but eccentric creature/special effects man named Chancey Bellow. He gets more than he bargained for when one of the creatures, the giant dragon-like Ultragorgon, takes Matt under his wing. Matt is forced to confront his inner monsters while working out his issues with his father.
Intro and Closing
Jim Henson talks about the Creature Shop, showing one of The Devils as an example of what the Creature Shop can make. He then introduces the Monster Maker.
In the closing, Jim Henson mentions that although the creatures look real, they are not actually alive. He tells how many performers were needed for the Ultragorgon (including Brian Henson operating the head). He also brings out Kermit the Frog who comments that he liked the special.
Notes
This episode was later re-aired as a stand-alone special without the framing introduction and closing, or The Jim Henson Hour title/logos.
The monster in the film-within-a-film at the beginning of Monster Maker would later appear as the Predator on Dinosaurs.
Brian Henson makes a cameo performing the slerks.
Cast
Credits
Gallery
Community content is available under
CC-BY-SA
unless otherwise noted.