Muppets Now

Air Date
September 4, 2020
Written by
Matthew Barnette, Marcos Gabriel, Jim Lewis, Jamilyn Rosales, Noah Smith, Joanna Truman, Andrew Williams, Kelly Younger
Director
Rufus Scot Church, Vito Massaro, Christopher Alender
"Socialized" is the sixth episode of Muppets Now.
Official description
"Muppets Now social media intern, Robin the Frog, makes Scooter co-moderator of the social media accounts. Scooter attempts to carry out this week's upload amidst a flood of alerts, requests, and notifications.

Dr. Bunsen Honeydew and his assistant, Beaker, receive legal lectures and accidental assistance from Muppet attorney, Joe the Legal Weasel. The Swedish Chef faces his competitor, Marina Michelson, to prove his family recipe makes the most magnificent meatball. Fozzie Bear talks shop with fellow comedian Seth Rogen, while babysitting some bad babies. Linda Cardellini and Taye Diggs indulge Miss Piggy more than usual for this installment of Lifestyle with Miss Piggy."
Skit highlights
Muppets
Muppet Characters:
Cast
Muppet Performers:
Additional Muppet Performers:
Guest Stars:
Gallery
Notes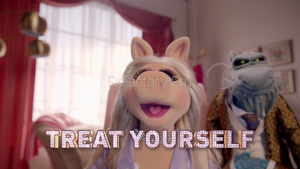 During Robin's live stream of the show, reactions of a plethora of Muppets pop up as likes and comments. Pepe the King Prawn posts an image of himself by the pool, starting a hashtag with a notebook screen reading "#HurryUpScooper."
When the episode was first released, the creative team left in an editing goof, appearing several times throughout Miss Piggy's Lifesty(le) segment, with a thin font overlaying the screen, reading "FxFactory Pro Trial."
Community content is available under
CC-BY-SA
unless otherwise noted.