Muppets Now

Air Date
September 4, 2020
Written by
Matthew Barnette, Marcos Gabriel, Jim Lewis, Jamilyn Rosales, Noah Smith, Joanna Truman, Andrew Williams, Kelly Younger
Director
Rufus Scot Church, Vito Massaro, Christopher Alender
"Socialized" is the sixth episode of Muppets Now.
Official description
Skit highlights
Muppet Labs Field Test: Chemistry
Økėÿ Døkęÿ Køøkïñ:

Marina Michelson

Mup Close and Personal: Seth Rogen
Lifesty(le) with Miss Piggy
Muppets
Muppet Characters:
Cast
Muppet Performers:
Additional Muppet Performers:
Guest Stars:
Gallery
Notes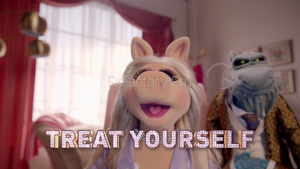 During Robin's live stream of the show, reactions of a plethora of Muppets pop up as likes and comments. Pepe the King Prawn posts an image of himself by the pool, starting a hashtag with a notebook screen reading "#HurryUpScooper."
When the episode was first released, the creative team left in an editing goof, appearing several times throughout Miss Piggy's Lifesty(le) segment, with a thin font overlaying the screen, reading "FxFactory Pro Trial."