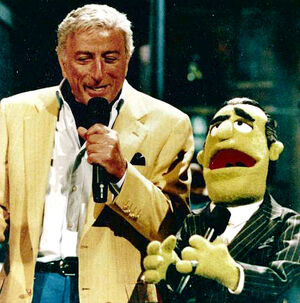 Singer Johnny Fiama falls flat on his face when he meets his idol, Tony Bennett.
Skit Highlights
Notes
This is the first episode not to feature any of Frank Oz's characters.
This is the first broadcast episode to feature outtakes during the credits.
A framed photo of Scooter (who doesn't appear at all in this series) can be seen on the wall next to Beauregard at the end of the show.
Performers
Kevin Clash as Clifford, Polly Lobster, Carter, Galahad
Bill Barretta as Johnny Fiama, Bobo, Pepe, one of the Elvises, Carl the Big Mean Bunny, Clueless Morgan, Gil the Frog, Howard Tubman
Brian Henson as Sal, Nigel, Seymour, one of the Elvises
Steve Whitmire as Kermit the Frog, Beaker, Rizzo the Rat, Dance-a-Lot
Dave Goelz as Gonzo, Dr. Bunsen Honeydew, Beauregard, Waldorf, Don the Prop Guy
Jerry Nelson as Statler, Lew Zealand, Scuzzball, one of the Elvises
Leslie Carrara as Spamela Hamderson, the Network Censor, Lady Guenevere

Clayton Cameron
Ralph Sharon Trio: Ralph Sharon, Clayton Cameron, Douglas J. Richeson
Cast
Muppets:
Clifford, Johnny Fiama, Sal Minella, Gonzo, Kermit the Frog, Dr. Bunsen Honeydew, Beaker, Spamela Hamderson, Mount Rushmore, Statler and Waldorf, Gil, Leapovitch the Frog, Shirley, Stosh, Don the Prop Guy, Beauregard, Chickens, Camilla, Bobo the Bear, Andy Pig, Randy Pig, Lew Zealand, Clueless Morgan, Polly Lobster, Mr. Callahan, The Elvises, Galahad, Lady Guenevere, Dance-a-Lot, Big Mean Carl
Background Muppets: