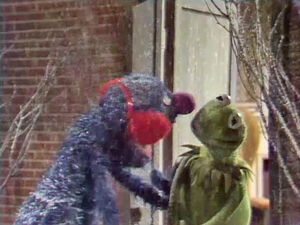 Big Bird discovers that some people are bilingual.
Kermit at Home: Grover is outside in the snow, freezing. He keeps knocking on Kermit's door, asking how to get warm, and Kermit keeps telling him to come inside. Grover, missing the point, tries ideas of his own to get warm, but they don't work. Finally, Kermit tells Grover that if he wants to get warm, he should come inside. Excited, Grover pulls Kermit aside and slams the door, locking Kermit outside. Grover goes to sleep in Kermit's armchair while the frozen frog scrapes at the window. (First: Episode 0598)
Film: Wheel rolls away from garbage, boy captures it to complete his wagon. (EKA: Episode 0767)
There Once Was a Hand series: the right hand tickles the left hand with a feather.
A cow talks about milk and how it's made.
Film: Two kids help an old Chinese man get his dragon kite in the air. (EKA: Episode 0470)
Film: Kids compare animals and human tools and technology. (EKA: Episode 0789)
The Count gets carried away counting containers of milk, and ends up buying too much. He doesn't know what to do with all the milk that he's bought.
Ernie & Bert — Ernie comes from finishing his bath, and tells Bert that there's something that he forgot. Bert asks if he's washed behind his ears, his neck, and his elbows. Finally, Ernie remembers that he forgot to turn off the water in the tub -- as the water level rises. (First: Episode 0277)
Community content is available under
CC-BY-SA
unless otherwise noted.